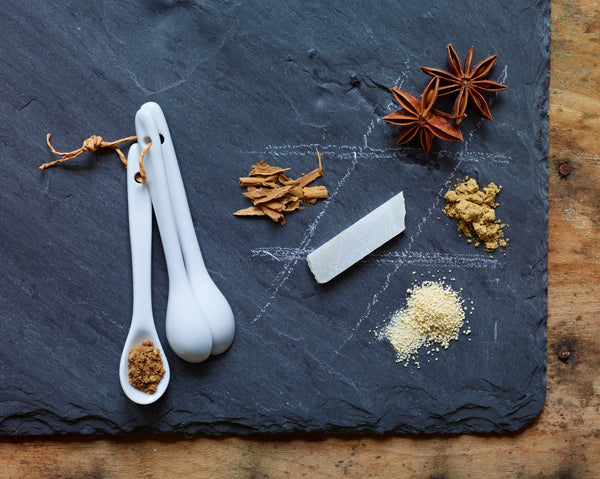 Reims N.39
Each month, we highlight one of our spice blends in the hopes to better educate our clients and to inspire them to try new flavors. La Boite's founder, Lior Lev Sercarz, has formulated each blend to elevate your culinary experiences. Each blend is inspired by a person, a place, or a dish, with the flavors working together to tell a story.
Like many of our core blends, Reims N.39 was inspired by a place and a person. Its namesake is a nod to Reims, France, where the loaf bread, pain d'épices, is a specialty. The bread is sweetened with honey and spiced with warm spices like star anise. Because of it's light, well balanced flavor, it is traditionally served with a decadent dish like foie gras or a delicate cheese course. Though sweet, pain d'épices is much less of a dessert than its American counterpart, gingerbread. 
However, this blend truly gives credit to Ghaya Oliveira, the former executive pastry chef at Daniel, Daniel Boulud's flagship restaurant. While at Daniel, she was seeking a spice blend for a gingerbread themed dessert- this inspired Lior to craft a blend made with crystallized honey, star anise, and cardamom. Thus, Reims was born!
Reims is the perfect for easing you into fall and is great for holiday cooking. The warming spices add a subtle heat, and the crystallized honey brings a balanced sweetness.
Here are a few different ways to use Reims:
Sauté prunes in butter with a pinch of Reims. Deglaze with port & reduce until syrupy. Use as a sauce for pork tenderloin.
Cook trout or any flaky white fish in brown butter spiced with a pinch of Reims
Add a pinch to a glass of cava or Prosecco and garnish with a lemon twist
From reader Lorri Thompson - add about a teaspoon to each half cup of oatmeal (before cooking) and you don't have to use any sweetener.
Recipes using Reims N39
• Reims Roasted Brussels Sprouts