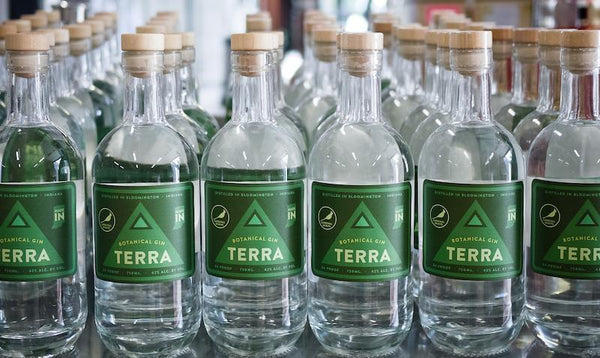 Adam Quirk: Terra Gin from Cardinal Spirits
This month we sit down with Adam Quirk of Cardinal Spirits of Bloomington, Indiana, creator of Terra Gin, using a custom spice blend from us here at La Boîte. This gin has been available in Indiana since last year, but starting this month will be available here in New York!
We're very excited to welcome Terra gin to the NYC market in June. Do you know where it will be available?
Sure do! We're being distributed by Blueprint Brands*, a fantastic distributor that we're very excited to be working with. Terra Gin will be available initially at Mash & Grape, and at Restaurant Daniel, where it will be featured in the table-side cocktail this month. In addition, we'll be at La Boîte from 3-6pm on Monday the 26th, pouring Terra and a couple other fun products, come see us!
Sounds great! Tell us a bit more about Cardinal Spirits, your history, what sets you apart.
Well in college (18 years ago!) I started with infusions, experimenting with fruits, spices, etcetera. After moving to NYC I kept it going, making infusions for friends and guests. The ideas for a current product, Bramble (a black raspberry and hibiscus spirit), and others, actually came out of these experiments. I never really thought of distilling until a guy named Brad Estabrooke opened Breuckelen Distilling in my Brooklyn neighborhood in 2008. I saw what he was up to and got inspired. My day job at the time was doing video editing, long hours in a dark room crouched in a chair. The opportunity to make something with my hands really called to me but I didn't see a way to make it happen right then.
Then life took me back home to Indiana, and the dream came with me. And it certainly took something. My business partners and I actually had to create a new law to allow for craft distilling in Indiana, and we finally opened in 2015. And three things:
We're committed to doing things the hard way, we use no flavorings or additives, take no shortcuts, and distill all of our own spirits (many producers do not).
We're pretty crazy about quality, we work with Indiana university's chemistry department and use their GC/MS to analyze our products, and with Matt Bochman, a yeast professor, to isolate and propagate the wild yeasts that give our products their distinct flavors.
And we're all about experimentation, we love starting with an idea and seeing if we can create something that captures the essence of it, it involves a lot of learning and unlearning, and allows us to make distinctive products that tell a story, are grounded in traditional technique, and are delicious.
For Terra gin we came up with a unique blend with you guys, including a wild Israeli mint from the Galilee and cubeb berries from Indonesia. Can you tell us a bit more about the inspiration and the experience you'd like to create for those who try it?
Gin to me always reminds me of nature and the wilderness. Where I spend my time there are pine trees, and that rich smell of the forest floor, and it's what initially attracted me to gin. I wanted to create a new style of gin, which has been in a renaissance, and wanted something that captured the essence of nature in my mind. Lior took my ideas and put his spin on it, bringing in Zuta from his childhood in the Galilee, and other spices from further afield. It was totally not what I expected, but when I tasted it I was transported to the wilderness, just not the one I'd grown up with. I think my ideal to enjoy Terra would be to climb a hundred foot tall cypress tree, gaze out at the forest below, raise my glass to the sky and just go for it. Failing that a comfy chair with a view of a happy plant would do nicely too. The outdoors is really in the bottle.
Totally. It's a pretty amazing spirit which can even be drunk at room temp, something unusual for a gin. Do you have any favorite cocktails you'd like to share with us?
Cool that you noticed that, our base spirit is actually distilled from white grape juice, which adds a soft fruity body that allows the gin to easily be drunk neat, or just with club soda and ice, one of my favorites (it's aromatic enough that tonic is not necessary).
The first is from Marcie at Restaurant Daniel:
The North Side
By Marcie Andersen of Restaurant Daniel
Ingredients:
Terra Gin
Suze
Watermelon/Cubeb Pepper Shrub
Lemon Juice
Garnish:
Watermelon Ice Ball
La Boite Terra Spice Blend Smoke
The North Side cocktail at DANIEL is inspired by the unique botanical blend of Terra Gin, which features floral, herbaceous, pine and bitter notes from all over the world. The name of the cocktail is inspired by the woodsy character of the spirit, referencing the adage that moss always grows on the north side of a tree.
To prepare the cocktail, the gin is shaken with suze, a house-made watermelon-cubeb pepper shrub and lemon juice. It is then poured into into a crystal decanter filled with smoke of the La Boîte Terra spice blend. Presented tableside, it is an aromatic and multi-sensory experience for the guest, intended to evoke the heightened sense of discovery one finds in the wilderness.
The second is a favorite at our bar in the distillery. The Chai Wallah combines Terra with house made ginger chai tea:
Chai Wallah
By Kevin Hinkle, bartender at Cardinal Spirits in Bloomington, IN
1.5 ounces Cardinal Spirits Terra Botanical Gin
1.5 ounces ginger-chai tea (recipe follows)
¾ ounce fresh lemon juice
¾ ounce simple syrup
Candied ginger, for garnish
Add all ingredients except for garnish to a shaker, then add ice. Shake well, then strain into a Collins glass filled with ice. Garnish with candied ginger. For the ginger-chai tea: Peel and chop a ½-inch knob of ginger. Prepare a cup of chai tea according to package directions, adding the chopped ginger to the cup. Allow to cool completely, then strain out the ginger before using.
Thanks! Oh and can you share any info on the upcoming amaro project?
Yeah we are in progress and aiming for fall. We've been applying our process to traditional amaro, breaking down how they're made and seeing what new things we can come up with. For example instead of using burnt sugar to sweeten and color (very common), perhaps using a smoked honey. Many traditional amaro were produced with local ingredients out of necessity, we're looking at how to do it intentionally to produce a distinctly American amaro with a definite sense of place.
That sounds amazing. Really excited to try it when it's a done deal, and looking forward to hosting you here later this month!
If you'd like to join us here at La Boîte on Monday the 26th, please RSVP here! * If you're a restaurant owner or liquor store in New York State interested in carrying Terra Gin please contact David Brooks at David.Brooks@blueprintspirits.com
Follow Cardinal Spirits for more updates
Cardinal Spirits is a craft distillery in Bloomington, Ind., that makes vodka, gin, rum, whiskey, botanical liqueurs and more, entirely on-site. Our spirits are highly rated, award winning and delicious to drink because we choose to make them with the best ingredients (often sourced right here in Indiana) and with actual botanicals and spices, never any coloring or flavoring extracts. Our spirits are found in 200+ bars, restaurants and retailers in Indiana, Kentucky, Illinois and Tennessee. Coming soon to New York, Boston, D.C., Michigan and Missouri.