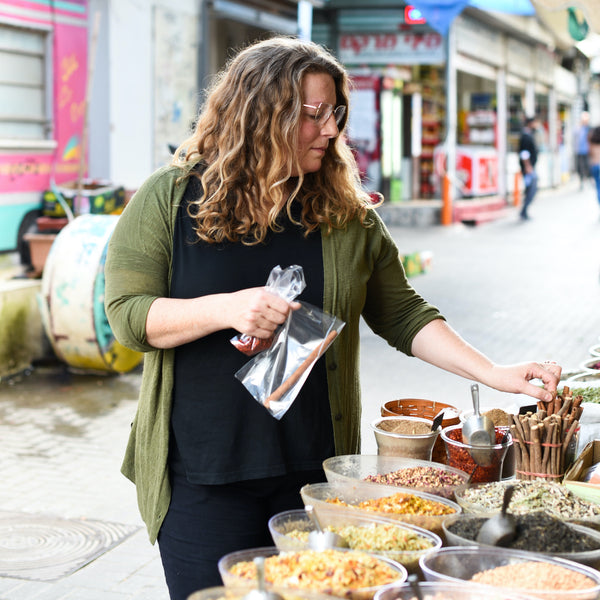 Adeena Sussman
Our friend Adeena Sussman shares how she became a cookbook author, her thoughts on the future of food, and more about our 3 collaboration blends.
Thanks for sharing with us so we could create these 3 blends with you. What inspired them and what's the story behind each?
The Sour Lime Seasoning stems from my love of Persian cooking and in particular sour limes, which are typically used to flavor long-cooked soups and stews. I felt their funky, fermented, citrusy and sour attributes needed another use, so I created a spice blend for my cookbook, Sababa, to rub onto chicken wings before baking and brushing with pomegranate molasses. The recipe was a runaway success, and Lior loved the idea of sharing an adapted blend with the La Boite world!
Rub Adom is inspired by Israel's love of paprika. Many homes have sweet, spicy, and smoked varieties in their home pantry and they're always being used in a million ways. I wanted to combine them into one simple, versatile rub for any protein.
And when I think of the Carmel Market I think green, green, green. My brain also goes to the vast array of herbs and spices from melting pot of cultures that can be purchased in the market, the place that is my constant source of inspiration and community. Herbes de Carmel signals both the freshness of the market as well as its diversity.
Thank you, we love them all, what's one of your favorite ways to use them?
Rub Adom was born to be rubbed onto chicken! My followers and readers are always asking me for ways to spice up chicken, and let me tell you, this combination of red spices does the trick! If you marinate chicken pieces in it long enough, it permeates all the way through turning your bird into something extra special. Lior and I collaborated on the blend and it has already gone into regular rotation in my home cooking!
Combine Rub Adom with olive oil, salt, and pepper in a bowl, Toss chicken parts in the seasoned oil and marinate for at least 2 hour and up to 24. Grill, bake - you can't go wrong!
And my recipe for wings using the Sour Lime Seasoning is here, if case you're looking for something more step-by-step.
Delicious. We'd love to know a bit more about you also. How did you come to be a food writer? What do you love the most about what you do?
I grew up in a home where cooking was central to our very being. Shabbat (the Jewish sabbath, subject of my upcoming Cookbook) was a focal point of every week, where my late mother, Steffi, enlisted the help of my sister and me to bake challah from scratch, shape matzoh balls, create many vegetable dishes and a variety of delicious proteins (not to mention homemade desserts!). I still have her very stained copy of the New York Times cookbook, which has served as a touchstone for me my whole life.
Though I had an earlier career in television, at the age of 30 I began working as a copywriter at Gourmet magazine, followed by culinary school in New York City and several years focusing on professional recipe developing, both for my own stories and articles and behind the scenes on behalf of celebrity chefs and cookbook authors. I also dabbled in food styling, catering, personal chef work, and did a lot of food and travel journalism focused on Israel.
I began co-authoring cookbooks 10 years ago and have done 14 of them, three with Chrissy Teigen. I love collaborating on books because it allows me to combine my love of writing with my love of cooking. It's the perfect intersection for me! I moved to Israel a few years ago after meeting and marrying my now-husband, Jay, who has been here for more than 35 years.
That led to my authoring my first major solo cookbook, Sababa, which came out two years ago. I have loved watching so many people fall in love with the spices that I know and love, and that constantly pushes me to use them in new and interesting ways. There is always something new to learn in the world of food and cooking and I hope to continue to do so for many years to come.
Lovely. What's your desert island spice?
Smoked paprika. It makes everything better!
What's either a challenge or an opportunity that you see as pressing in the world of food?
I see the globalization of flavor as both: the ability to share culture and history through food is thrilling, but making sure not to lose context and to honor the roots of spices and flavors is a challenge we all need to take on.
Thank you!
Adeena's spices are all available here. And her book can be purchased here.
For more updates from Adeena, you can follow her here:
About Adeena Sussman
Adeena Sussman is the author of Sababa: Fresh, Sunny Flavors From My Israeli Kitchen, which was named a Best Fall Cookbook by The New York Times, Bon Appetit, and Food & Wine. She is also the coauthor of the recently released Gazoz book, and is currently working on her followup to Sababa, all about the foods of Shabbat. The co-author of 14 cookbooks, three of her recent collaborations, including Cravings and Cravings: Hungry For More with Chrissy Teigen, were New York Times Best-sellers. A lifelong visitor to Israel who has been writing about that country's food culture for almost 20 years, Adeena became a citizen in December 2018. She cooks and writes in Tel Aviv, where she lives in the shadow of that city's Carmel Market with her husband, Jay Shofet.