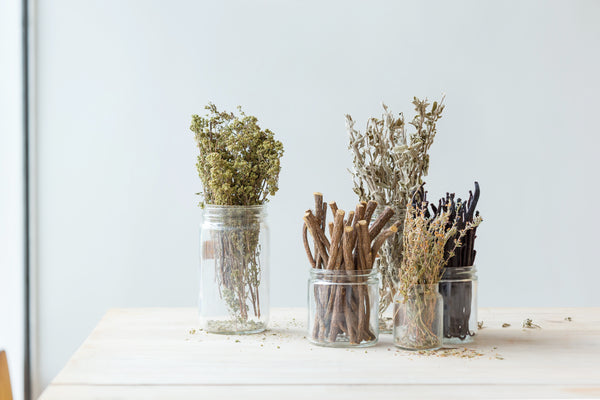 A Spice Dinner in Boston with Ana and Maura, Authors of Soframiz
This month we sit down with Ana and Maura, discuss their new book Soframiz, and their upcoming collaborative spice dinner with Lior at Oleana on November 1st!
1. What's your current favorite thing to eat?
Ana - My husband's fresh vegetables from Siena Farms, especially the eggplant which is perfect right now. And just dug potatoes with spices from La Boîte. :)
Maura - I love taking advantage of summer tomatoes, and that makes me look forward to fall squash and sweet potatoes.
2. How was the experience of collaborating on a book together, which part was the most fun, anything were you surprised to learn?
Co-writing the story about Sofra made it clear how much we have learned from and inspired each other over years of working together. We've been blessed with an amazing professional team at Ten Speed and a fantastic staff that helped it all come together. It was great fun holding the first copy in our hands, and creating the photos with our amazing stylist Catrine Kelty and photographer Kristen Teig. We did a lot of research on middle eastern flavors and desserts, and learned that it's best to be yourself and share with others the way you like doing things, even though there may be better or quicker ways to achieve the same thing.
3. Can you share a favorite recipe from Soframiz?
Yes! Here's a recipe for Cheese Borek.
Borek is a pie or pastry that probably originated in Eastern Europe and came to Turkey with the Ottomans. It is made with yufka dough, a thin, almost phyllolike pastry. There are numerous varieties of borek; some are filled with meat, others with cheese, and still others with vegetables. Borek can be rolled, folded, stuffed, twisted, or layered in a baking pan, like this one. This recipe is called su borek, which means "water pastry," probably referring to the boiled-noodle texture resulting from layering and soaking the pie in yogurt and egg until the center becomes almost like a kugel, lasagna, or dumpling, while the top becomes crisp.
I prefer to use store-bought yufka in this recipe because it is thinner than both of the yufka recipes in this book. If you want to make it yourself, use the recipe given on page 19 for katmer and roll it out as thin as possible. If you have leftovers, cut the cold borek into small pieces and crisp them in a pan for a perfect afternoon snack or breakfast item.
Cheese Borek with Nigella Seeds
Serves 10 to 12
1 stick (4 ounces) unsalted butter, melted
11⁄2 cups whole milk
3⁄4 cup plain whole-milk Greek yogurt
1 teaspoon kosher salt
2 eggs plus 2 egg yolks
4 sheets store-bought yufka pastry, weighing about 2 pounds (many brands of yufka are available online)
4 (4-ounce) balls buffalo milk mozzarella, grated
3 tablespoons all-purpose flour
2 tablespoons nigella seeds
Preheat the oven to 425°F. Butter an 8-inch square baking dish or an 11 by 7-inch baking pan with 1 tablespoon of the melted butter.
In a small mixing bowl, whisk together the milk, yogurt, salt, and whole eggs until very smooth. Whisk in the remaining 7 tablespoons of melted butter.
Cut the yufka so that you have about eight large pieces that cover the bottom of the pan. It's okay if they don't fit the pan perfectly or if the edges hang over; you can fold everything over the top at the end of assembling.
Place one layer of yufka on the bottom of the pan and brush lavishly with the milk mixture. Repeat until you have four layers of brushed pastry. Distribute the mozzarella over the top of the four soaked yufka layers. Place another four layers of yufka over the cheese filling, brushing with the milk mixture between every layer.
Using a small knife, cut the borek, scoring the pastry so that the custard seeps into the cuts. Make 10 to 12 cuts. It doesn't matter if it breaks up the pastry; you can press it back down with your hands. You don't need to worry about doing it neatly; the cuts will disappear while the borek bakes.
Mix the remaining milk mixture with the egg yolks and flour. Pour over the top and let soak for 20 minutes. Eventually, the liquid soaks into the pie, so don't worry if it seems like a lot. Sprinkle the top with the nigella seeds.
Place the borek in the oven and lower the heat to 350°F. Bake for about 50 minutes, until golden on top and puffy. Let rest for 15 minutes before slicing and serving.
4. Lior's upcoming book focuses on creating simple blends at home, what's your favorite spice/herb combination and why?
Ana - I love the combination of sumac, maras, and dried spearmint. It's warm, tart, sundried flavor has light heat from the chiles and can transform chicken soup, creamy yogurt or tomato sauces, and simple pasta dishes from something ordinary to something extraordinary, which is how I feel about all of Lior's work blending spices!
Maura - I can't pick just one: I love Lior's Dessert Rose blend as I am a huge fan of sesame/tahini in sweets. Sesame, caramel and maras pepper is fantastic. And on the savory side I like za'atar oil on bread, yogurt with chickpeas, or on potatoes.
5. Please tell us a bit about the upcoming spice dinner at Oleana.
It's a chance to experience the expertise of Lior and to taste some flavor combinations that are game changers. We are going to cook some recipes from Soframiz and draw inspiration from the blends in The Spice Companion. It will be a collaborative blend of both books and a unique event focusing on spice.
6. Any new projects on the horizon that you'd like to share?
We are taking a breather for the moment! Just looking forward to promoting Soframiz and sharing what we have built with people, hopefully inspiring them to have fun with flavors and to take changes of their own.
7. What changes would you like to see in our food culture over the next five years?
Ana - Less donuts, less burrata, more veggies, more spices!
Maura - A focus on where food actually comes from. People taking responsibility for their nutrition and health. I do love the growth of more artisan and specialty producers, it means people are following their passion and I'd love to see this trend continue.
8. Last meal?
Ana - At Ciya in Istanbul, my favorite place to eat in the world.
Maura - It would be more about who I dine with, so it could be anywhere from a beach barbecue to fancy dinner.
Tickets are $150 - all inclusive (dinner, drink pairings, tax, gratuity, and autographed copies of both Soframiz and The Spice Companion)
It's well worth a trip to Sofra to pick up a copy of Soframiz, but if you cannot, it can also be ordered here
Follow Ana and Maura for more updates
Cited as one of the country's "best creative fusion practitioners,"
Seattle-born Ana Sortun graduated from La Varenne Ecole de
Cuisine de Paris before opening Moncef Medeb's Aigo Bistro in
Concord, Massachusetts, in the early 1990s.
Sortun and business partner executive pastry chef Maura Kilpatrick
opened Sofra Bakery & Café in Cambridge (2008), which offers
a unique style of foods and baked goods influenced mostly by the
countries of Turkey, Lebanon, and Greece. She has also opened
Sarma, a traditional Turkish-style tavern, featuring meze.
When she is not at one of the restaurants, you might find Ana
on a culinary tour of Turkey with the Oldways Preservation Trust,
which provide tours and educational programs focused on good
health and eating.
MAURA KILPATRICK
After receiving a graduate certificate in baking at the California
Culinary Academy, Maura moved back to her hometown and
worked for many of Boston's top chefs including Lydia Shire,
Moncef Medeb, Rene Michelena, and Ana Sortun.
In 2001, she reunited with Sortun to develop the concept for
Oleana. It was at that time that Maura fell in love with the
exotic flavors and spices for which she is now known. Through
extensive research, experimentation, travel and "homework,"
Maura has perfected her award-winning Middle-Eastern pastries;
integrating typical ingredients from the Eastern Mediterranean
such as orange blossoms, tahini, and rose petals. She creates
contemporary versions of traditional desserts from Turkey, Egypt
and beyond.
Most recently, Maura was a nominee for the 2016 James Beard
Award Best Pastry Chef.
CREDIT: Recipe reprinted with permission from Soframiz by Ana Sortun and Maura Kilpatrick, 2016. Published by Ten Speed Press, an imprint of Penguin Random House LLC. Photographs copyright © 2016 Kristin Teig unless otherwise noted