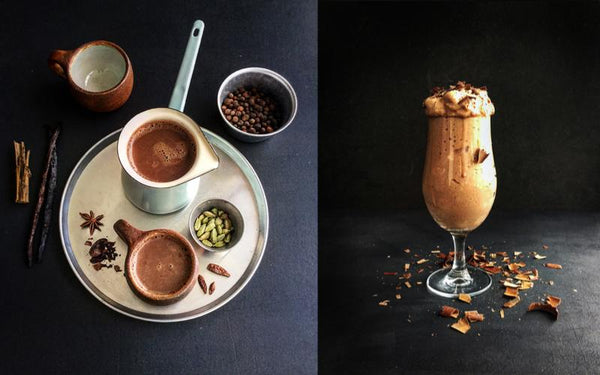 Blue Stripes by Oded Brenner
This month we sit down with Oded Brenner to talk about his new venture, Blue Stripes Cacao Shop, and the spices we did together that elevate his cacao drinks.
Thanks for taking the time Oded, we're excited to collaborate with you and would love to learn more about your concept and vision. Notably you've opened a cacao and not a chocolate shop, can you explain the difference?
The name says it all, we are the first cacao shop that showcases the entire cacao fruit. We create a new experience by using the raw pulp of the cacao fruit. Lightly textured and sweet, we use it to make energy drinks and bowls. We also take cacao beans from different single origins and grind them fresh on the spot using a unique grinder that creates a smooth paste. We cook this with water, condensed milk, and spices, creating our ultimate version of hot chocolate.
Interesting! How did your interest in cacao begin?
I've been in the chocolate business for twenty-five years and became more and more curious about the cacao fruit and I learned more about chocolate. I believe that the market in general is heading in a direction where we explore the origins of ingredients in their pure form and reconnect. There is a lot for people to learn who do not live in the countries where cacao is grown.
Consumer education is also a top priority for us. What's something most people don't know about cacao?
Very few people get to try the fruit itself or taste the pulp, only ever having the roasted beans or chocolate made from them. The pulp surrounding the beans has a unique tropical flavor, with notes of litchi and passionfruit, and is full of nutrients. There are plenty of people who have never seen the whole cacao pod and do not know how or where is grows. At Blue Stripes people can enjoy something tasty and healthy and learn all of these wonderful things about cacao.
Can you tell us a bit more about the spice blends you had us make for you and how you are using them?
If you go back to the producing countries there is more of a spice culture, exotic to much of the western world. In central and south american countries cacao is never made into a beverage without spices. We asked for blends that connect to and evoke that sense of place so that everything makes sense when we pair them with our single origin cacao beans.
Thanks! Can you share a couple dishes on your menu that you're especially fond of?
Of course. We're very proud of our clouds, it's a chocolate mousse on tap. Using nitrous oxide we create a liquid frothy chocolate milk that holds its shape. We also make granola bowls with the cacao pulp, which allows people to experience the fruit in a fresh and healthy new way. And I have not lost my taste for fun. We have the cake and shake, and milkshake with a small cake on top, so you have something delicious to drink after dessert. And we make the ultimate chocolate croissant, we split a freshly baked croissant and melt a chocolate bar inside, so every bite is perfect.
Those all sound amazing, thank you very much!
You are very welcome! It's been a pleasure and everyone is loving the spices!
Blue Stripes Cacao Shop is at 28 E 13th Street here in New York (btwn 4th and 5th ave). They open every day at 7am and you should definitely go check them out!
Follow Blue Stripes for more updates
Oded Brenner
Oded Brenner, aka The Bald Man, has been creating confectionary wonders and revolutions for the past two decades. From an early age Brenner possessed an entrepreneurial spirit, leaving Israel at 22 to pursue his passion for chocolate making. He apprenticed throughout Europe, working with renowned pastry and chocolate experts such as George Maushagen, Parisian sweet purveyor Fauchon, and chocolatier Michelle Chaudun. Brenner brought his culinary knowledge back to his Israel where he opened a small chocolate shop. It was here that he began to expose people to the wild side of cacao and lay the groundwork for his future in chocolate. He created a shop like a fashion designer's atelier, making the experience interactive by sprinkling chocolate in people's hands and offering tastes of chocolate from huge slabs. In 2006, Brenner opened his first American location of Max Brenner, Chocolate by the Bald Man. His new project Blue Stripes is a shop devoted to all things cacao, from fruit, to bean, to chocolate.