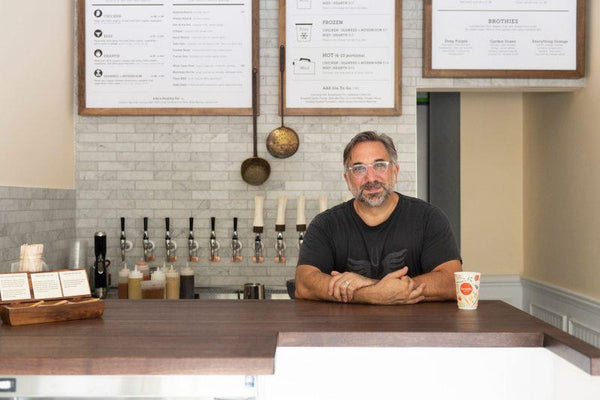 Brodo Spices!
It's been almost two years since the last time we spoke with Marco. Brodo is bigger and better than ever, and we're happy to announce that our custom blends that flavor his creations are now available at retail.
Hi Marco, thank you for taking the time to sit down and talk this month. Can you give us a quick recap of what's changed over the last two years?
We've expanded from one shop to four shops (East Village, West Village, SoHo and UWS) and we've launched broth on tap. We offer reusable glass jars full of delicious broth so you can always have this staple in your fridge. We also now offer free shipping to the west coast. We're very happy to now produce your blends in retail packaging (currently available in store and later online) so that customers can replicate some of the Brodo experience at home.
Do you have a quick recipes you can share?
Sure!
What Came First
Makes one 12oz drink
1 egg yolk
11 oz organic chicken broth
Small pinch of warm spices (we recommend ground nutmeg, cinnamon, cardamom, and ginger)
Bring broth to a boil, then let it cool for a few minutes. If broth is too hot it will cook the yolk (which isn't the end of the world!). Whisk egg yolk and warm spices in a cup. Pour warm broth over, mix and enjoy.
How about other quick ideas for what to do with the blends?
The cooking applications for these blends are endless. The tom yum blend is great with all kinds of meat applications...I like to sprinkle on thinly sliced chicken breast and then pound into the flesh to make a flavorful paillard. I also love to buzz some cocoa blend into my coffee and the what came first is great in sweet baking applications.
And can you let us know a bit more about what sets your broths apart from other commercial products? Are they basically the same recipes as in your book?
Brodo makes broth the traditional way - The way your great grandmother did with real bones from healthy animals raised on real pastures and fresh organic vegetables. Every batch of our broth is slowly simmered 18-24 hours. We don't use concentrates. We don't use extracts. We don't use artificial flavorings or preservatives. We don't take shortcuts of any kind. You can learn more about our process
here
.
Thanks! And a few questions about you, what's one of your happiest memories from the last couple years?
My two daughters, Stella and Zadie, fill my life with so many happy memories. From dropping Zadie off for her first day of school to watching Stella play the cello at her first concert…and accepting the James Beard Award was pretty great too...
If you were cooking a dinner for just you and your mother, what would you make and where would you serve it?
Braised rabbit with tons of fresh, local veggies. Ideally in Tuscany but if I had to be stateside, we'd be on Martha's Vineyard.
And what's something not everyone knows about you that you'd like for people to know?
From the moment the idea of Brodo entered my brain, I had been intrigued by broth's history as restorative and obsessed with getting broth back into our hospitals. You can reach more about it
here
.
Follow Marco and Brodo for more updates
James Beard Award-winning chef Marco Canora is asking people to "rethink their hot beverage." His takeout windows and brick-and-mortar locations of Brodo serve nourishing, sip-able bone broths out of coffee cups. Chicken, beef, hearth and a vegan seaweed + mushroom

broth

, the foundation of the

Brodo

menu, are cooked the traditional way, made with 100% grass-fed beef, organic poultry and whole organic vegetables and slow-simmered for up to 24 hours in small batches. Served in paper cups to sip on the go, each

broth

can be paired with a variety of add-ins such as coconut oil, grass-fed butter, freshly grated turmeric and roasted garlic, or serve as the base for a selection of

combo

beverages such as the Tom Yum (chicken

broth

, chili oil, coconut milk, lime + curry spice blend) and Deeply Rooted (Hearth

broth

, ginger, fresh turmeric).
Since Marco debuted NYC's first bone broth window in 2014, Brodo has has since expanded to brick-and-mortar locations in the West Village, SoHo and the Upper West Side, a partnership with NYU Langone Medical Center and nationwide delivery. Over the years, Brodo has been recognized consistently as a pioneer of bone broth in outlets such as The New York Times, TIME and Good Morning America.