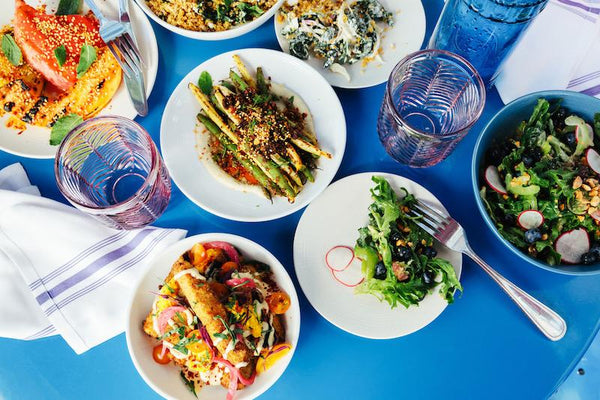 Cara, Honey Road, and the New Cara Blend!
This month we sit down with Cara Tobin, owner of Honey Road in Burlington Vermont, to find out more about her and her Cara blend, which we are proud to now offer at retail!
Thanks again for taking the time, can you tell us a bit more about your journey? How'd you end up where you are today, and what are a couple steps along the way that had the biggest impact on your life?
Oh man, my journey…my culinary career has been a 20-year adventure that started in a pizza restaurant in Hanover, NH, and has taken me across the country and all over the world. I grew up in California but moved east when I was in high school. I got my first job in a professional kitchen, on the hot line, at 17, and never looked back. The adrenaline rush of it really hooked me.
When I was young, cooking was a big part of my family. Everyone either cooked or talked about food. So the thought of it being something I could do as a profession was awesome and felt natural. Growing up and cooking in California gave me a great appreciation for fresh local produce and in some ways a more Mediterranean style for cooking, though I didn't really realize it at the time.
It wasn't until I started working at Oleana in Cambridge, Ma with Chef Ana Sortun that I started learning about and appreciating Mediterranean cuisine, especially the eastern side of the Mediterranean, and the use of spice. I was fascinated with the flavors, the traditions and the culture. I started traveling so I could try the dishes in their original form. I went to places like Turkey, Morocco, and most recently Lebanon. It blew my mind! When I started forming the ideas for my restaurant, Honey Road, I knew that these were the flavors and ideas that I wanted to cook with.
What do you love about Middle Eastern food in particular, and do you have any favorite food memories from your travels or past work?
What I love about Middle Eastern food is the pride, the tradition, the hospitality, the flavors, the spices…it's so complex but simple at the same time. A dish can be three ingredients but feel so deep and rich. You can take a piece of lamb and braise it with cinnamon, cumin and allspice and suddenly it's this complex dish. That wrapped in fresh pita with some yogurt…dang!
My first trip to Turkey really sticks with me. We were in Gaziantep, about 30 miles from the Syrian border, right before the war in Syria broke out. Antep is a beautiful city and the cuisine of that region is very well known and quite special. It was the first time I really saw such pride and care put into a dish. The Kebab, Lamejun, and Baklava…so delicious!
We had the chance to visit one of the most famous kebab shops in Gaziantep. The men in the kitchen were chopping the meat for ground kebab BY HAND! It was crazy. There was a shop selling meat grinders down the road but they insisted that the meat/fat ratio, the texture and the flavor was better if they did it by hand. For a restaurant that serves 600+ daily this was super impressive. It made me swear to never be lazy about cooking again.
What was the inspiration for the Cara blend, and what are some of your favorite things to do with it?
I was at a market outside of Marrakesh, Morocco. My husband and I were walking through the market and I saw a man selling spices. He was sitting behind a table with big bags of spices all around him. He was making spice blends for people…tagine blends, blends for meat, blends for vegetable…basically the person would tell him what they were cooking and he'd make a spice blend for them. One thing that people kept asking for involved something being pulled out of the biggest bag he had. It was a brown powder that I finally figured out was coffee.
He was mixing spices into ground coffee. Spices like cinnamon, bay leaf, cardamom. I immediately said to my husband, Moroccan coffee spice! I had cooked with coffee before, whether it was a rub on meat or in the liquid while braising meat, so I was very excited to imagine a coffee blend with Moroccan spices. At the restaurant it is used in baked goods as well (cakes and cookies) but where we use it the most is with lamb. We braise all of our lamb with Cara. It's actually quite delicious as a coffee drink as well. :)
Nice! Do you have a recipe that people could make at home using the blend?
Sure do!
Cara and Pomegranate Braised Lamb Chops
2 Tbsp olive oil
8 - 3/4 inch thick lamb rib chops or 8 - 1 ¼-inch-thick lamb loin chops
2 cups pomegranate juice arils of 1 pomegranate
1 cup white wine
1 onion, large dice
½ cup brown sugar
3 Tbsp Cara
1 cup water
3 tsp salt
¼ cup fresh parsley, chopped
Heat oil in a large pan over medium high heat. Add the onions and cook until soft. Add the lamb chops and brown on both sides, then remove from the pan.
Add wine to deglaze, then reduce by half. Add the water and pomegranate juice and bring to a boil. Add the chops, salt, brown sugar, and Cara.
Cover and reduce to a simmer for one hour. Plate the chops on a serving platter and spoon the braising liquid over, garnish with fresh pomegranate seeds and parsley.
Wow this looks great! What's something very few people know about you that you'd like for everyone to know?
I'd say that if very few people know something about me it's for good reason, haha! I'm pretty good at sharing, maybe too good sometimes. But I have always believed that you should talk openly about things even if they are struggles because you never know when hearing your story might help someone through a hard time. Not a glamorous answer I know but it's the truth.
Thank you! And what's the most recent thing that totally surprised and delighted you?
My husband and I just had our second child in early June. I can really say that not much else tops that right now. He was born on a beautiful sunny day in June and it has been pretty magical ever since. I mean…I'm tired as hell but….
Been there! Some of the hardest and most rewarding work ever! :)
The Cara blend is available in our shop here!
Follow Honey Road for more updates
Cara & Honey Road Cara's culinary journey began when she was in high school. At the age of 17, after relocating from California where she was born and raised, she began working in the kitchen of a pizza shop in Hanover, New Hampshire. In the years that followed, her desire to attend art school was replaced by a drive to develop her skills as a chef and toward that end Cara moved west again to complete her culinary degree in Monterey, California.
After graduating as valedictorian of her class, Cara had a number of professional jobs along the West Coast including Cetrella in Half Moon Bay, The Plumpjack Café in San Francisco, and at the Dream Inn Hotel in Santa Cruz, California. When her husband had the opportunity to attend graduate school in Boston the couple moved just a few months after their wedding and Cara began looking for a new kitchen to call home.
Cara joined the Oleana team in the spring of 2010 and then spent the next six years as the Chef de Cuisine. In September of 2016, Cara moved to Vermont with her family and opened Honey Road, an eastern Mediterranean Mezze restaurant, in Burlington. This past February, Cara was nominated for the second time as a semifinalist by the James Beard Foundation for the category of Best Chef: Northeast.