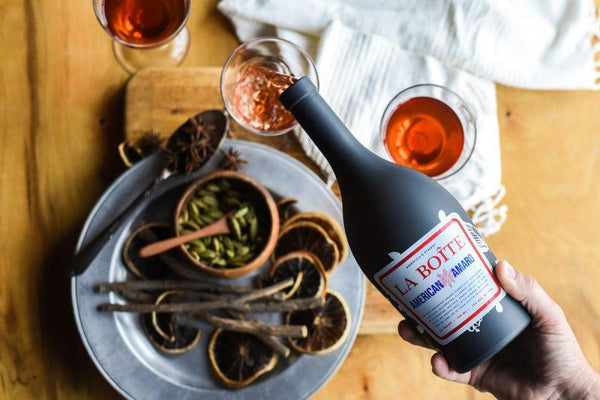 Cardinal Spirits: La Boîte American Amaro!
This month we're catching up with Adam Quirk of Cardinal Spirits to discus our newest collaboration, La Boîte American Amaro!
It's been a great two years since our last collaboration creating Terra Gin! Can you fill us in on where people can purchase the new Amaro and on upcoming events?
Sure can! The Amaro will be available for sale here. We have an upcoming dinner at Claudette on Wednesday the 11th of September, tickets and more info available here. And we'll be pouring the amaro at a tasting at La Boîte on Thursday the 12th, from 6pm-8pm, please RSVP here if you can join us!
How did the idea for an American Amaro come to be? And what did the journey look like to create a final product?
When I met with Lior in NYC about 5 years ago, my only agenda was a desire to work with someone with a similar passion for creativity in flavor development. It's something I've been doing from a very early age, and it's incredibly fun to collaborate with people on new product ideas. Lior's reputation preceded him and I asked if he would be interested in working with me on a gin. He agreed, and a couple years later we created Terra together. Towards the end of that first meeting, he mentioned a product he was fascinated with called Barolo Chinato, and explained it to me. When I got back to Indiana I tried to find some, to no avail. Eventually I was able to special order a bottle through a great bottle shop called Vine & Table, and tasted it. So Lior planted that seed a long time ago, and ever since we have been loosely discussing how we would create something to match a Barolo Chinato in quality, flavor, mouthfeel, etc.
Once Terra sales began doing well, we got down to the work of actual recipe development. For context, I believe Terra Gin took about 6 months from idea to bottle. La Boîte American
Amaro
has taken well over 2 years. We wanted to make sure it was exactly what we wanted, which takes time. We sourced tons of different base ingredients, but ended up bringing in a red grape, fermenting that into red wine, distilling that, then infusing the distillate for several weeks with Lior's
amaro
spice blend that he created for this product. We also use a blowtorch to toast several handfuls of oak chips and cherry wood chips, which go into the infusion as well. After the flavor has been extracted into the distillate, we filter it, then blend back in some of the same red grape juice to lend a light sweetness and warm, round mouthfeel.
What would you say sets our Amaro apart from others in a now crowded field?
We purposefully designed this amaro to be consumed at the table, rather than just at the bar. It's much lighter in both sweetness, alcohol content, and mouthfeel than most amari. This means a table of 4 can share a bottle over a couple courses, and our hope is that creative sommeliers will start suggesting this.
Interesting that it was designed to be drunk with food, not just before or after or in cocktails. Any particular food pairings that people should definitely try? Do you have a favorite?
Not playing favorites yet, but the warm licorice notes go well with a soft goat cheese and preserves. We've been exploring flavor combinations and find it works great with spiced foods (surprise!). And if you're in NYC definitely come check out the dinner at Claudette, Chefs Ari and Lior are putting together a menu designed to showcase the flavors of the amaro which should be delicious and a lot of fun.
And speaking of cocktails, do you have one or two to share with us?
Sure do!
by Cardinal Spirits bartender Sean Kogge
1/2 oz dry vermouth
1/2 oz amaro
2 oz terra
Stir with 3 cucumber wheels
Strain into coupe
Cucumber wheel garnish
by Cardinal Spirits Sales Manager, Scott Lowe
2.5 oz. dry gin
1 oz. Amaro
3 dashes Peychauds bitters
Stir and serve in coupe. Serve garnished with lime twist and star anise pod
Cool. And a fun one for you, what's something almost no one knows about you that you'd like for everyone to know?
Since we humans are energy/matter that has reformed itself into complicated living things, we are the universe perceiving and changing itself. As a spokesman for the universe, I'd like everyone to know that everything is going to be ok, and to stop worrying so much.
Haha gotcha!
Thanks again! We are looking forward to the dinner and tasting next month!
More information on events and the Amaro is available here.
* If you're a restaurant owner or liquor store in New York State interested in carrying La Boîte Amaro or Terra Gin please contact Justin Manley*
Follow Cardinal Spirits for more updates
Cardinal Spirits is a craft distillery in Bloomington, Ind., that makes vodka, gin, rum, whiskey, botanical liqueurs and more, entirely on-site. Our spirits are highly rated, award winning and delicious to drink because we choose to make them with the best ingredients (often sourced right here in Indiana) and with actual botanicals and spices, never any coloring or flavoring extracts.