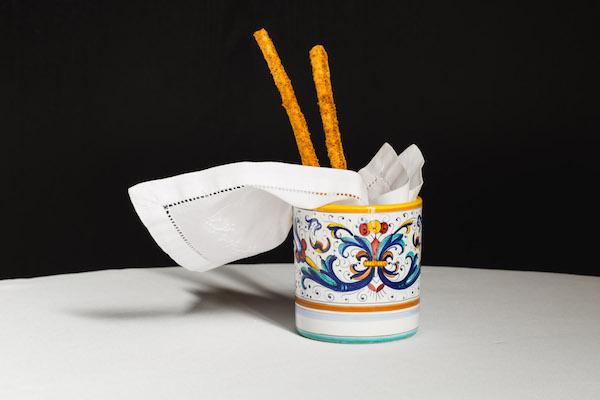 Del Posto at Home
Our good friend Mark Ladner, head chef and partner at Del Posto, sits down with us this month to talk recipes, his upcoming book, and spices in Italian food.
Chef Mark Ladner
1. What do you love most about your job?
Having spent the last twelve years of my life working exclusively at Del Posto, I feel I've had a unique opportunity to watch an entire generation of young cooks pass through our kitchen. To see how their influence has developed our cuisine, and our culture, is a very satisfying thing.
2. Your upcoming Del Posto cookbook has been touted as friendly to the home cook trying to recreate restaurant recipes at home. Can you please elaborate?
My team, including Matt Abdoo and Justine MacNeil, worked very closely with Michael Wilson and Mindy Fox (formerly of the magazine Cucina Italiano) for over two years. Michael and I were friends and admirers of each other. Michael and Mindy had already worked together very closely for almost a decade, focused on creating hundreds of successful Italian recipes for the home. Our goal was to take our working recipes, that we use daily at the restaurant, break them down, and rebuild them for the home cook, all without dumbing them down. It was hard work, but we feel we have really achieved something great!
3. Can you talk about how you approach integrating new spices into Italian dishes?
We have been extremely influenced by you and your products for several years now. I think we started with your Lampong & Tellicherry black peppercorns and have only looked forward from there. We currently use Mishmish #33, Kibbeh #15, Pizza Posto (which you developed for us, and which we currently use for our bar grissini), Moruno #21, and Shabazi #38 just to name a few. I really enjoy the long research journey involved in finding middle eastern food influences on Italian cuisine. Often dating back several centuries.
Like the Orecchiette Pasta with Lamb recipe you provided for Lior's first book?
Exactly.
4. So what is your favorite herb/spice and why?
My favorite herb is lemon basil. We grow our own in our hydroponic garden here at the restaurant so that we can have that fresh, clean, citric boost year-round without that harsh back throat taste. My favorite spice is your Calabrian ground chili (peperoncino). For the harsh back throat taste. :)
5. We created Pizza Posto for you years ago, could you tell our readers what you like about the blend and a fun way to use it?
This spice blend works well on mozzarella, for example, or potato chips. It'e even great as an extra double-down jolt for pizza!
6. What would you like to see be the next big thing in the food world?
A wider use of whole indigenous grains and natural fermentation is of course exciting. Especially if their use becomes more popular. But I'm most excited about the prospect of providing people everywhere access to fresh healthful affordable fast food and positively affecting the diets of many thousands of people per day rather than a few hundred. Keep your eyes peeled for Pasta Flyer coming very soon!
7. Last meal?
Something light and fresh with no fuss, served with lots of bubbles, enjoyed with my favorite sidekicks.
Pre-order Mark's new Del Posto cookbook here
Follow Del Posto and Mark for more updates
Mark Ladner opened Del Posto with Mario, Joe and Lidia in the fall of 2005. The restaurant received a four-star New York Times review in 2010 and was recently honored with a Michelin star, the Relais & Chateaux Grand Chef distinction, The Grand Award from The Wine Spectator and the Five Diamond from AAA.
Chef Ladner's education began in Cambridge, MA at independently owned and operated pizza counters, followed by formal culinary schooling at Johnson & Wales University in Providence, Rhode Island. He moved to NYC in the early 90's and worked with several well-regarded restaurateurs, before meeting Mario Batali and Joe Bastianich and opening Babbo Ristorante as Sous Chef in 1998. Ladner has since opened Lupa Osteria Romana (1999), Otto Enoteca Pizzeria (2002) and Del Posto (2005) as Chef/Partner at each restaurant. Mark co-authored Molto Gusto (Ecco, 2010) with Mario Batali.