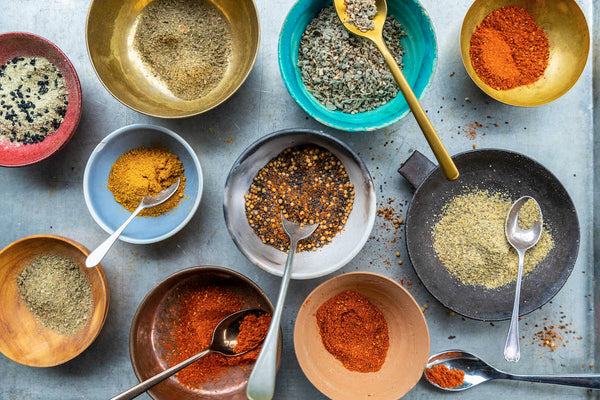 Einat Admony - Bar Bolonat Spice Dinner
Einat Admony runs Taïm, Balaboosta, and Bar Bolonat here in the city. This February the 8th she'll be hosting a Spice Dinner with Lior. We sit down with her to hear her thoughts on the dinner, Israeli food, and spices!
© Johannes Oberman
We are very excited about our upcoming collaboration dinner on the 8th. Can you let us know a bit more about two or three dishes and explain the concept to us? What would you like diners to walk away having experienced?
Understanding that Israeli cuisine is much more than hummus and baba ganoush. There are so many different cultures melting together. This is the story that we want to tell through this dinner. Dishes from different places, different styles and techniques.
You and your husband have been pioneers of Israeli food in the United States, it seems like everyone knows hummus and falafel nowadays, but what are some dishes that people might not know about that they should know?
Oh, there are so many dishes people are still not familiar with. All of the Iraqi and Irani cuisines, all the different Kibbeh's, all the North African cuisines.
© Johannes Oberman
Winter is a great time for big dinners with friends, do you have a simple recipe you can share?
A braise! Short rib or lamb shank. Braise it with wine, vegetables, and dried fruit like prunes, dates, or apricots. Serve with couscous!
Braised Short Ribs with Wine, Prunes, and Harissa 
from Balaboosta: Bold Mediterranean Recipes to Feed The People You Love
Serves 4 to 6
2 pounds short ribs

2 tablespoons canola oil

1 spanish onion, diced

1 clove garlic, thinly sliced

1 leek, thinly sliced

1 large carrot, cut into

¼ inch slices

1 celery stalk, thinly sliced

4-5 dry prunes, cut in half

1/8 teaspoon rosemary

1/8 teaspoon thyme

1 tablespoon harissa

1 tablespoon honey

1 ¼ cup red wine

1 ½ cup chicken stock

½ teaspoon cumin

¼ teaspoon cinnamon

1/8 teaspoon sweet Hungarian paprika

½ teaspoon star anise

1 bay leaf

¼ cup orange juice

½ tablespoon salt

1/8 teaspoon freshly ground black pepper
Preheat the oven to 350°F.
Heat the oil in a large cooking pot over medium heat and add, in this order, the onions, garlic, leeks, carrots, celery, and prunes. Sauté until softened. Add the rosemary and thyme, followed by the harissa and honey, and mix thoroughly.
Add the red wine and chicken stock to the pot. Combine the cumin, cinnamon, paprika, star anise, and the bay leaf in a separate bowl, then add the spices to the vegetable mixture. Finally, pour in the orange juice and cook until all of the vegetables are soft and slightly broken down.
Season the short ribs with the salt and black pepper. Mix the meat and vegetables together in a Dutch oven, making sure some of the vegetables are on the bottom and on the top of the mixture. Place a lid on the Dutch oven and cook in the oven for 2 ½ - 3 hours, until the meat is soft and comes easily off the bones.
For a fancier presentation, remove the meat from the Dutch oven and pour the remaining vegetable liquid through a strainer. Take the liquid along with the prune halves (if you can find them) and blend in a blender until smooth. Pour the liquid into a medium saucepan and heat over medium heat until the liquid reduces and forms a smooth sauce that can be poured over the plated ribs.
If you're not feeling fancy or don't have any extra time, the ribs and vegetables can be served straight from the Dutch oven, ideally over a bed of couscous, Israeli couscous, mashed potatoes, or some nice rice.
© Johannes Oberman
What's your favorite spice or blend and why? If you can't pick just one two or three is fine too :)
Baharat and Dukkah!
Thank you again, are there any projects on the horizon you'd like to share with us?
Yes, a new cookbook about Israeli cuisine in collaboration with Janna Gur.
Follow Einat and Bar Bolonat for more updates
Einat Admony is chef and owner of the Balaboosta, Bar Bolonat, and Taïm restaurants in New York City and author of Balaboosta: Bold Mediterranean Recipes to Feed the People You Love.
Her life has been an adventure. After growing up in Tel Aviv, she secured illicit rations for her kitchen as a cook in the Israeli Army, walked away from college after two months, traipsed around Germany as a gypsy, then packed up her life to move to New York City and work at "a million venerable kitchens around the city," according to The New Yorker.
Then things got interesting. Inspired by the street food of her native Tel Aviv, Einat opened the falafel joint Taïm (tah·eem) in Manhattan's West Village in 2005. In 2010, she launched Balaboosta in Nolita where the manner of cooking is not so much Middle Eastern as Mediterranean. Her most recent venture is Bar Bolonat, a West Village eatery named one of the best new restaurants of 2014 by New York Times critic Pete Wells.
Her way with ingredients has been lauded repeatedly by The New Yorker, The New York Times, and New York Magazine, among many others, and her way with people was noted by The New York Times' critic Sam Sifton: "Admony…runs Balaboosta exactly as if she'd invited a room full of strangers for dinner, then told her family to be nice to them."
Einat is married to Stefan Nafziger. Together they own and operate Balaboosta, Bar Bolonat, and Taïm. They live in Brooklyn with their two young children, Liam and Mika. When Einat is not at the restaurant she can be found at home, cooking for the crowd of family and friends continually gathered around her dining table.