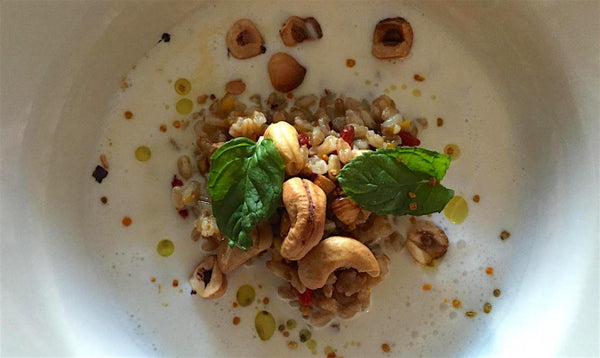 Elizabeth Falkner ICE Food Waste Event
Lior and Elizabeth Falkner are presenting together for the Zero Waste Food Conference at the Institute of Culinary Education at the end of the month. Here we get her thoughts on food waste, a recipe, and what she's up to next!
Thank you for taking the time to answer our questions! We're excited to be collaborating with you.
What's your philosophy when it comes to minimizing food waste?
I value the energy it takes on a biological and universe level as well as the human energy to cultivate ingredients and distribute them, so I don't over purchase and I try to use everything for something. It is something I constantly am talking about with different audiences and in recipe development.
The problem of food waste is slowly but surely getting the attention it deserves. Any tips for restaurateurs and for home cooks?
I try to inspire people to get creative with what they have instead of feeling like they have to follow a recipe exactly. Also, being conscious about what to purchase in a week's time and to take constant inventory and push to think creatively.
Can you please share a recipe for something you like to cook at home?
I have been making a cool dish with farro cooked in carrot juice with roasted and raw carrots, seeds and nuts with carrot seed lassi (other spices used in the dish are cardamom and black pepper with the lassi and cinnamon stick, turmeric, cayenne and ginger in the farro) and finished with mint, cilantro and parsley.
Chilled Farro, Cashew, Honey, Carrot Top Lassi Salad
Serves 4
Farro Mixture:
1 C. farro
1 TB. olive oil
½ stick of cinnamon zest of one orange
1 C. carrot juice
1 tsp. minced ginger
1/4 tsp. cayenne pepper
1 tsp. turmeric
2 C. water
1 tsp. Kosher salt
Lassi Mixture:
1 C. plain Kefir or yogurt
1/2 C. blanched carrot top leaves
2 TB. honey
½ tsp. cardamom seeds
½ tsp. Kosher salt a few grinds of black pepper
2 tsp. orange flower water
A couple tablespoons of water to liquefy, depends on if using Kefir or yogurt
To Finish:
1 C. grated raw carrot
¼ C. roasted cashews squeeze lime juice mint, parsley and cilantro leaves
Place olive oil in a saucepan with heat on high. Add the farro. Cook for two minutes stirring a couple times. Add the orange zest, cinnamon stick and carrot juice and turn heat on medium and bring to a simmer for five minutes without stirring. Add water, salt and spices and simmer another ten minutes. Cover and set aside off heat for a few minutes. Pour mixture into a dish and cover and chill.
In a blender, combine the Kefir or yogurt, honey, carrot leaves, cardamom, salt, pepper, orange flower water and a little water and blend to consistency desired. Keep chilled. Spoon a large spoonful of the farro mixture in bowls. Pour a little lassi in the bowl. Finish with the nuts, grated carrot, lime, and herbs. Serve immediately.
Do you have a favorite spice or blend?
I love the combination of cumin, urfa and aleppo chilis together. Love on chicken, lamb and fish. I also use fennel seeds in many dishes.
Any upcoming projects or news you'd like to share?
Paradigm, a collaboration with my brothers Ryan and Jason Falkner, multi sensory- food-audio-visual art installations. A few will be launching this year in galleries and festivals.
Follow Chef Falkner for more updates
Chef Elizabeth Falkner is sometimes referred to as a "Culinary Instigator". She is a world recognized chef and continues to be a pioneering leader in the culinary arts. For more than twenty years, she wowed the San Francisco/Bay Area rising quickly as a star working with renowned chefs in the restaurant scene and then at her own Citizen Cake, a multiple award winning restaurant, bar and patisserie, and then at Orson restaurant. After moving to New York in 2012, Falkner successfully launched two indepen- dent restaurants within a year and gained immediate successful press including a 2 Star NY Times review for her Neapolitan pizza in Brooklyn. Falkner is a multiple award winning chef and has been a James Beard Foundation Award nominee.
Falkner graduated with a BFA from The San Francisco Art Institute and fell in love with the food movement in California in the early 90's. She is writing a mem- oir and coming full circle to her roots in fine art and working on a series of Food/ Art Installations called "Paradigm"-looking at food outside of a restaurant context in collaboration with her brother Ryan Falkner who is also an artist and filmmaker.