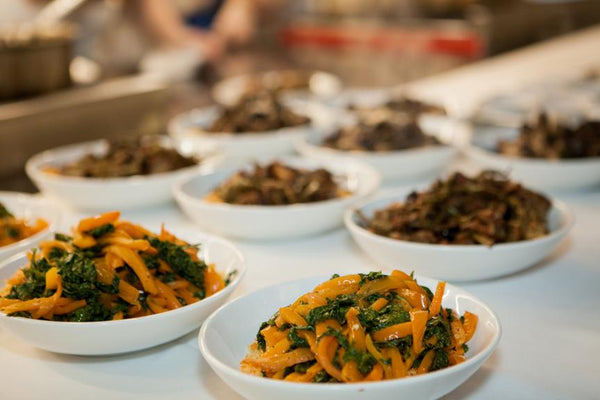 Kerry Brodie and Emma's Torch
This month we sit down with Kerry Brodie, founder of Emma's Torch, a non-profit social enterprise dedicated to empowering refugees through culinary education. We're honored to cook with them on Thursday October 19th at their space in Red Hook. Tickets are here!
We're very excited about the upcoming dinner, can you please tell us more about the theme of the meal and what attendees should expect?
It's both a graduation ceremony for our latest cohort of refugees, and an opportunity to expose supporters to the global cuisines that Lior and Alex will share. Fundamentally Emma's Torch's mission is twofold to both create opportunity for refugees in the culinary arena, and to broaden American horizons by sharing the cultural wealth that immigrants have to offer.
Graduates? Please tell us more.
In June we created a paid training program for refugees that develops their in culinary and English language skills, with the goal of getting them kitchen positions in NYC restaurants. Our third cohort just graduated, and you'll be able to meet them on Thursday. Boubacar is from Guinea and just started working at Little Park, and we have a woman from Pakistan who is currently interviewing.
Can you tell us about your background and how you came up with the idea for Emma's Torch?
Sure! I have a background in public policy and worked extensively both with refugee issues and with food related causes. After moving to New York from Washington D.C. I heard that many restaurants were struggling to fill line cook positions, and I was aware that many refugees struggled to find stable employment when they had limited English skills. It took something to create a platform to connect the two, I went to culinary school, and began to work with restaurants to learn the industry. And now I'm happy to say that we've created a model that works!
That's fantastic! Aside from our dinner on the 19th you guys are open for brunch on weekends right?
Yes! Our cafe (at 293 Van Brunt Street in Brooklyn), is open every Saturday and Sunday from 9 in the morning until 2pm. In addition to enjoying a great menu, guests actively contribute to the training and development of our students, who work in the cafe. We'll be there until December 1st, and then moving to a larger space where we will be able to expand our program!
Wow that's great! Last question, do you have any favorite spices or blends?
A couple yes! We use za'atar in our labneh, and I use it in pretty much everything at home. And I love saffron. One of our students actually showed us all a trick the other day. She used an ice cube instead of hot water to bloom it, and the color, aroma, and flavor were all much more intense!
Emma's Torch is open every Saturday and Sunday 9am-2pm at 293 Van Brunt Street in Brooklyn. More info here!
Follow Emma's Torch for more updates
More about Emma's Torch
THE PROBLEM For refugees coming to America, one of the hardest parts of the transition can be finding a new job. A job is important for more than just a paycheck. It is a chance to meet new people, practice language skills, and find a sense of fulfillment and self-worth after what can be a jarring and disorienting move.
ENTER EMMA'S TORCH We provide refugees with culinary training, ESL classes and interview preparation. We set them up for successful employment in an industry in which their cultural heritage and cuisine can be celebrated. What's more, we provide a community in which they can build supportive relationships.
THE EVOLVING FOOD INDUSTRY Restaurants in New York City are struggling to fill line cook positions. We collaborate with some of New York's most renowned chefs, industry leaders and restaurant groups to help our students find jobs after they graduate.
CURRICULUM Through our eight-week, paid apprenticeship program, our students receive over 200 hours of culinary training and licensing. They gain work experience at Emma's Torch Classroom Cafe and participate in accelerated English language classes tailored towards the industry. Each cohort is comprised of two students and an instructor, so each student receives a lot of individual attention. Our curriculum, designed in consultation with our Chef's Council, ensures that our students master all of the critical skills needed to work in a restaurant kitchen.