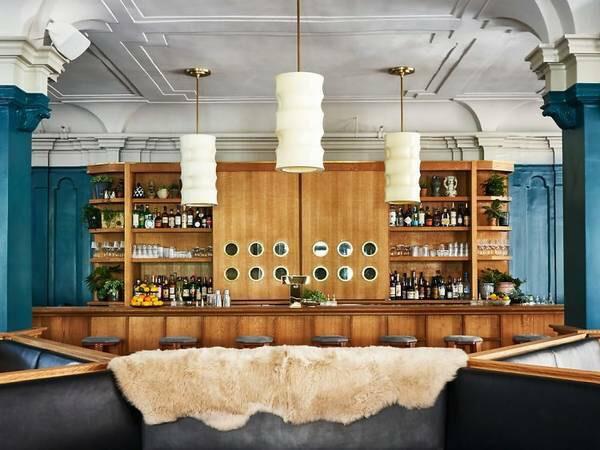 Mishmish Cup by Karen Fu
This month we sit down with Karen Fu, Bar Manager at Studio at the Freehand hotel here in NYC.
Congrats on the opening! We were excited to hear you are using one of our blends in a cocktail and wanted to hear more about it and about you.
Thank you! Honored and happy to answer questions.
The Mish Mish Cup is such an inventive riff on a sour. Did the blend inspire the drink? And were there any ideas that didn't make the final cut but were still interesting?
The goal of the Mish Mish Cup was to create a whiskey sour that challenged the classic with a curveball, while remaining crushable. The arc of the cocktail started with Torres 15 Brandy and Tamworth Distilling Von Humboldt's Tamarind Cordial which go great together. From there, I weaved the inspired theme of the Studio cocktail menu of color and fresh juices...together with the all-day eatery concept providing cold-pressed juices, gazoz, and delicious drinks that could seamlessly transition from day to night. Yellow bell pepper juice for vegetal acidity and Jameson whiskey for the heather notes came into play, but it was difficult to reach a balancing point. Then I visited La Boîte, and was introduced to the Mishmish blend, which led to the addition of ginger, lemon, and honey to round out the cocktail, with crystallized honey and saffron spice notes on the rim for the ultimate finish.
Wow! Mind sharing the recipe in case people want to try their hand at it at home?
No problem here you go:
Mish Mish Cup
1 teaspoon Ginger Syrup
.75 oz Honey Syrup
.5 oz Lemon Juice
.75 oz Yellow Bell Pepper Juice
2.75 oz Mish Batch (.75 oz Tamworth Tamarind, 1 oz Torres 15-Year, 1 oz Jameson)
Method: Shake, Fine Strain
Glass: Leopold Coupe
Garnish: half-rim of Mish Mish blend: 1 part white sugar, 1 part salt, 1 part La Boite Mishmish No. 33 (Crystallized Honey, Saffron, Lemon)
Do you have a process for coming up with new cocktails and how do the parts come together? For example balancing the need to include a particular ingredient with the more literary goal of inspiring an emotion, place, or memory. Walk us through?
The process starts with a wireframe of loose objectives like classic cocktail category, ingredients, or the spirit that serves as the base. The theme of this particular project was abstractly COLOR, so as to not be restricted by parameters as I tend to overthink things. I started with fresh juices, and then went from there. Our eight cocktails provide a range of low ABV to spirit forward old-fashioned and martini riffs that can easily translate from afternoon tipple to party time when the sun goes down. Definitely am inspired with flavors and spices from memory of memorable dishes, and definitely associate places with aforementioned inspirations. I don't necessarily factor emotion into the creative process, as I believe a well-balanced, well-nuanced drink should provide guests drinking it with evocative memories from whatever slate they may draw from. As far as all the other parts, that's just playing around with research and development and application of technical processes like infusions, sous vide, macerations, etc.
Any other favorite cocktails that prominently feature spices or spice blends?
PDT's Spice Plum with Bank Golden 7-Island Rum, Clear Creek Slivovitz, Averell Damson Gin, and Cane Syrup with the La Boîte #26 Spice rim with Demerara sugar is a favorite! Also love using Aleppo pepper, sugar, salt blends for rims, along with anything that's blended with smoked salt.
Describe a perfect day off.
A perfect day off consists of sleep, Fierce Grace or Bikram yoga class, spending time outside, a scrumptious meal, and watching a fantastic movie or reading an awesome book-- simply getting lost in a relaxing yet stimulating day.
What's a dream you have that you'd like to realize in the near future?
Reaching life-work balance after these few months dedicated to marathon opening hours. Traveling to Taiwan, Corsica, or Oaxaca in the coming months. Taking a trip to Los Angeles and seeing if I could envision living there. Coming up with a summer menu that is streamlined and easy in execution, but also is considered innovative and crushable.
What's one of the best things you've done that you never want to do again?
Haha I have a few: recreationally dance pointe, hula-hoop on cinder blocks of a Chinatown rooftop for an hour for a Christian Jankowski art project, chronically twist my weak ankles, and anything to do with surgery that is complicated for the female reproductive system.
Nice! Thanks so much!
Follow Karen for more updates and go say hi over at Studio
Karen Fu is a Metuchen, New Jersey born, now New York City resident of 15 years. She took up bartending to supplement writing, inspired by the likes of Kerouac to sustain the lifestyle of both professions after attending Barnard College. She struck lucky to be on the staffs of PDT and NoMad Hotel when on the receiving end of the James Beard Outstanding Bar Award, respectively, has bartended/managed at other excellent venues like The Happiest Hour/Slowly Shirley, Mayahuel, Donna Cocktail Club. She is currently the bar director of newly opened Studio for Happy Cooking at Freehand New York. When not immersed in the bar world, KFu is found practicing yoga, rediscovering hidden treasures in the city, and catching up with the feminist wiles of catpack.