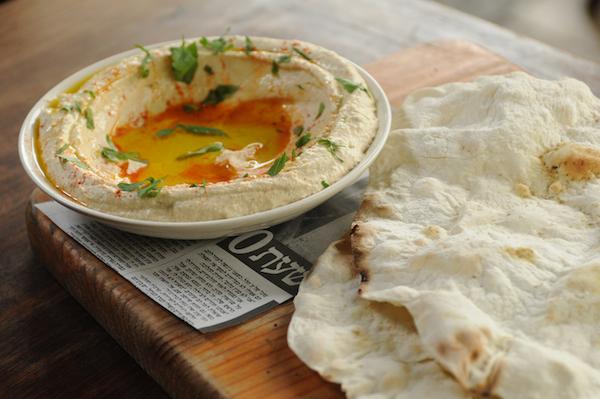 Spice Dinner at Zahav, Thursday April 6th
Next month Lior will be down at Zahav to cook a spice dinner with Michael Solomonov. Here we explore Michael's thoughts on cooking, spices, and dreams.
© Michael Persico
We've had a long relationship with you and you use quite a few of our blends in your restaurant. This dinner is a bit different since it is based on simple 3-5 ingredient blends from the Spice Companion. What would you like people to walk away having experienced?
We love the idea of cooking for the spice. We oftentimes start with the protein first – but I love utilizing the spice as the star of a dish – working essentially, backwards. I want each guest to walk away and be reminded of something. A memory awakened through each course.
Do you like cooking when you're off the clock? If so what's one of your favorite quick things to make?
I usually cook pasta or very simple roasts. Maybe three to four ingredients total. Noodles with olive oil, cheese, chilies, and parsley almost always wins.
© Michael Regan
Do you have a favorite spice or blend? If so what and why?
I'm not sure if I have a single favorite. It truly depends on the season. Blood orange is really amazing right now. As are dried orange blossoms and the Ana blend. They seem to be filling my head with magic thoughts.
Congrats on the success of the Zahav cookbook. It's very easy for a home cook to follow and the recipes have great stories and explanations. What do you most want people to take away from reading it?
Thank you. We are incredibly proud of the book. I want people to use the recipes, take in the beautiful photos, and of course, learn about Israel. It is an extremely personal book and pays homage to a country and a cuisine that I believe in. Perhaps it is a way to honor people that I love and celebrate their lives.
© Michael Regan
What's an "impossible" dream you'd like to accomplish in your lifetime?
I would like to be the first Israeli Olympic Snowboarder. I wouldn't compete in freestyle, but anything downhill I would charge.
Any new projects on the horizon you'd like to share with us?
Ohhh I have a secret that you are going to freak out over, but like I said, it is a secret. Lior has made a custom blend for this specific project so it will most certainly be fire!
Follow Mike and Zahav for more updates
Website: Zahav
Instagram: @Zahavrestaurant
Michael Solomonov is the executive chef and co-owner of Philadelphia's pioneering modern Israeli restaurant, Zahav. He is the 2011 James Beard Award winner for "Best Chef, Mid-Atlantic" and a 2016 James Beard Award winner for "Best International Cookbook" and "Book of the Year" for his and business partner/co-author Steven Cook's first cookbook, Zahav: A World of Israeli Cooking. In addition to his duties at Zahav, Chef Solomonov co-owns Philadelphia's Federal Donuts, Dizengoff, Abe Fisher, and the philanthropic Rooster Soup Company, which donates 100% of its profits to the Broad Street Ministry Hospitality Collaborative that provides essential services to Philadelphia's most vulnerable citizens. Solomonov is also co-owner of Dizengoff NYC inside the storied Chelsea Market. Born in Israel and raised in Pittsburgh, Solomonov frequently travels back to Israel.