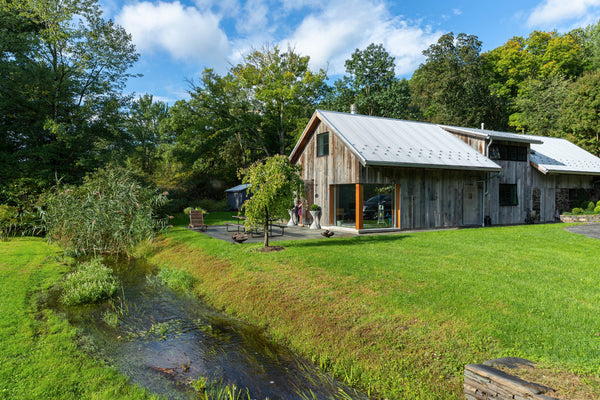 The Villa at Saugerties: Spice Weekend August 19th
This month we sit down with Amanda Zaslow and Joe Moseley, owners/operators of The Villa at Saugerties, a unique and intimate bed and breakfast located north of us in the Hudson Valley. Lior will be there the weekend of the 19th to teach a spice class for guests and to spice up Joe and Amanda's market dinner at The Barn

on Saturday

night. To reserve your stay please email info@thevillaatsaugerties.com or call 845.246.5440.
Thank you for taking the time, we're very excited to be doing an event where so many of the photos from The Spice Companion were shot. Please tell us a bit more about Saturday dinners at The Barn and what guests should expect:
Joe: The dinners at The Barn have been a great way for us to get to know our guests over a casual feast. After breakfast, I go to the farmer's market and other local purveyors to select the most seasonal and fresh ingredients available to develop my menu for the evening. I focus on simple, unfussy preparations. Using the best ingredients that we can find locally not only supports our farmers, but always seems to taste the best. We love to invite guests to overlook the lily pond on the dining patio as the sky turns pinkish, and we'll start with some little plates to get the evening going. Guests bring their own wine, and over four courses of simple food, served family style, we all become friends.
What's are some of your beloved spots in Saugerties, is there anything that a visitor absolutely shouldn't miss?
Joe: There are so many great food options near us, but Black Eyed Suzie's Upstate is a spot we frequent often for thoughtfully prepared, unfussy, clean, delicious food.
Amanda: It's like Joe's food, but he doesn't have to make it! Joe: Another great spot is the Saugerties Lighthouse. It's a scenic 1/2 mile flat walk through a nature trail that opens up to a beautiful red brick lighthouse built in 1869 on the Hudson River at the mouth of the Esopus creek. Bring a baguette and cheese with you to have a nosh at the picnic tables on the lighthouse deck while you wait for the sun to set over the water. Opus 40 sculpture park and museum is another spot we highly recommend.
What are a few of your favorite spices and how do you like to use them?
Joe: We love to use Shabazi in a savory vegetable pancake, or zucchini fritters. We use Yemen to add depth and brightness to a blueberry, almond milk smoothie with dates and coconut. We also love to use Za'atar on broiled baby or Japanese eggplant for breakfast.
The Villa is beautiful, what was your inspiration in designing it?
Amanda:Not to sound corny, but truly, our inspiration came from love. While on our honeymoon in Spain, we spent our favorite days at a quiet, little place in the countryside near Girona, about an hour north of Barcelona. The owners were preparing to "retire" to start a vineyard, and the new owners preparing to take over were a young couple, a chef and his wife, with whom we were fortunate to spend a lot of time. We were so inspired by their love of their special little place, the community, the land, and most of all their guests. We were treated with such genuine care. A memorable moment for us was when Vincenz invited us to his private gardens to help him pick vegetables and greens that he wanted to prepare just for us — and another time when his whole face lit up when offering to share fresh mushrooms just delivered down the mountain by the old women from the town.
It was in was in those moments that we literally turned to each other and said that if we would ever have the opportunity to do something like this, where we could share our love of beautifully prepared, simple food, and thoughtfully designed spaces indoors and out — what could be better? With our backgrounds at the Food Network, and in interior design, we talked about the possibilities of what, where and how, but we never thought we would actually do it! A year went by and we looked at a handful of properties, but nothing really spoke to us, so we put the concept on hold. Our light was actually reignited while out to dinner with my closest girlfriend Lisa, and her then fiancee, Lior, when he posed a few poignant questions at the right time for us, and talked about starting his own spice blending business. We picked up our search, and within two weeks, we found The Villa for sale — this funny, little Mediterranean country house, plopped in the middle of the Hudson Valley.
Little did we know that we would be tearing down all structures and ripping apart the property to repair and reinvent our special little place, but we buckled down and decided that this was really where our hearts were. We always envisioned The Villa to be a place of easy luxury with a timeless style that would reflect not only its unique Mediterranean design, but also its rural setting in the foothills of the Catskills. Through the use of handcrafted and custom modern designs, reclaimed hand hewn barn beams, and 19th century antiques, we were able to actualize a rustic modern aesthetic that captures an enduring style with mindful details. We put all of the love that we have into every little piece of The Villa, and 5 1/2 years later, we opened our doors to incredible guests on New Year's Eve 2016.
Do you have a simple recipe you'd like to share with our readers?
This simple toast is a big hit with our guests, especially served with Tortilla and our Zaatar eggplant. We first confit potatoes and onions in olive oil, then use this oil to also cook the Tortilla and fry the bread. In a cast iron pan the bread crisps nicely and stays crunchy for a long time. Rub toast with a cut tomato, sprinkle with smoked salt and that's it.
Pan Con Tomate with Smoked Salt
Sliced bread
Olive oil for frying
Tomato
Describe your perfect day.
Our favorite moments are when we are working and rushing in the kitchen, trying to make everything perfect, and we suddenly hear a huge bout of laughter from our guests in the adjacent room. We look at each other and smile every time. Hearing them interact, and watching new friendships develop has been the most unexpected joy of this entire crazy ride — and we absolutely love it.
Follow The Villa at Saugerties for more updates
Just two hours from New York City, The Villa at Saugerties resides on 3.6 acres of pastoral grounds including two streams, a lily pond, and grand willows. The romance lies in the sundrenched gardens with its wooded backdrop, local and seasonal dining indoors and out, private patios, forty foot heated swimming pool, and fireplaces in each guest room – a timeless, Mediterranean modern oasis in the Hudson Valley.
Each intimate guest room is a getaway unto itself with king or queen beds dressed in luxurious linens, hand laid Moroccan tiled bathrooms with marble sinks, and deep soaking tubs or walk-in showers. Cable TV, Apple TV, Netflix, and complimentary Wi-Fi are among some of the additional amenities offered.
With a focus on food, and using fresh, simple, and local ingredients, our complimentary breakfasts may include fresh fruit, yogurt, chia seed pudding, eggs, pastries, breads, and locally smoked salmon, along with hot dishes including traditional tortillas, savory vegetable pancakes, or thick cut French toast with local syrup or honey. Additional preparations might include tapas style dishes such as patatas bravas, simple local greens, and roasted seasonal vegetables.
Varied four season activities nearby include hiking, biking, skiing, snowboarding, kayaking, golfing, indoor and outdoor tennis, HITS (horse show in the sun), apple/pumpkin picking, antiquing, and strolling the grounds here and beyond. Visit the farmers markets, vineyards, orchards, waterfalls, and art galleries, or experience some of the great music and restaurants in Saugerties and the surrounding areas including Woodstock, Hunter, Catskill, and Hudson.