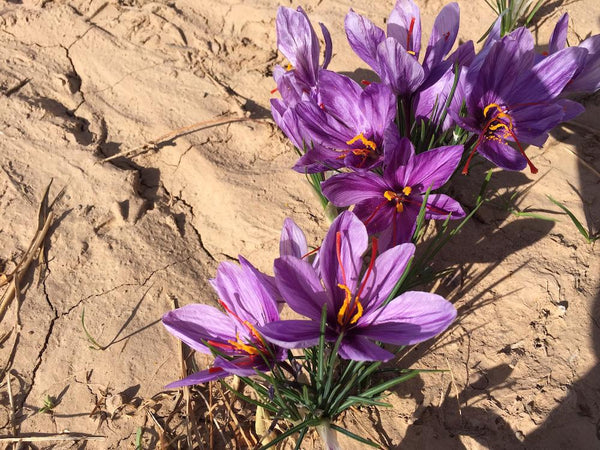 Voyager Profile - Afghan Saffron from Rumi Spice
Our Voyager Single Spices are sourced from the best producers, this month we sit down with Kimberly Jung, co-founder of Rumi Spice, importers of saffron from rural producers in Afghanistan.
1. Thank you again for taking the time, first, what's the difference between high and low grade saffron and how does one tell the difference?
High grade saffron is a deep red in color, with a strong floral fragrance. At Rumi Spice, our saffron is 25% above the required crocin level for Category I, the highest grade of saffron according to ISO 3632. Low grade saffron smells stale, includes too much of the yellow part of the stigma, and in some instances, contains fake threads. The best way to determine the quality of saffron is to steep a few threads in warm water for 15 minutes and compare the intensity of flavor.
2. What does it take to produce top quality saffron?
The most important part is the climate and region. In Afghanistan, the soil and weather conditions (mountainous, hot, and dry) are the most favorable. The saffron crocus flowers must be picked at early dawn right when the temperature drops in late October and early November. The stigmas are then peeled from each flower and dried in a commercial drying machine. Top quality saffron uses state-of-the-art equipment for drying and minimizes the time between picking the flower and drying the stigmas.
3. Thanks! Saffron has a long history in many cuisines, from Persian to Amish. Do you have a favorite simple recipe you can share with our readers?
Yes!
Saffron Herb Pistachio Rice
Serves 4-6
Ingredients:
1/2 cup raisins, chopped
juice of 1 lemon
3 tbsp butter
2 cups long grain rice
2 1/3 cup boiling water
1 tsp saffron threads soaked in 3 tbsp warm water
Salt and pepper
1 ounce fresh dill, chopped
1/2 ounce fresh tarragon, chopped
1/4 cup toasted pistachios, coarsely chopped
Directions:
1. Soak the raisins in lemon juice for half an hour.
2. Melt the butter in a saucepan, add the rice and stir to coat thoroughly, then add the boiling water, saffron with liquid, plus salt and pepper to taste. Cover with a tight fitting lid and cook over low heat for 15 minutes. Allow to cool off of the burner for 10 minutes, then stir to separate the rice grains.
3. Immediately before serving, stir in the tarragon and dill, then sprinkle with the chopped pistachios.
4. What are some quick ideas for how to incorporate saffron into your cooking?
Soup bases, tea, ice cream, rice, crème sauces.
5. What are you most proud of having accomplished since starting Rumi Spice?
This year we hired 384 Afghan women and partnered with 94 farmers. Since our inception, Afghanistan's saffron production has increased by 250%. We're proud to be part of that.
Follow Rumi Spice for more updates
We are former Army officers who served combat tours in Afghanistan. Since leaving the military, my cofounders and I feel we still have unfinished business to support Afghanistan and its people. We founded Rumi Spice to work directly with Afghan farmers to import exceptionally high quality saffron. Rumi saffron now graces the tables and kitchens of The French Laundry, Daniel, Le Bernardin, Bouley, NAHA, and the Culinary Institute of America. In Afghanistan, we've hired 75 Afghan women, stood up our first processing facility, have over 35 farmers in our network, export 5% of Afghanistan's total saffron production at 100 kg, and now make up 3.6% of all of Afghanistan's agricultural FDI. We're laying a foundation for peace one saffron flower at a time. This year, we've grown to three processing facilities, 384 Afghan women employees, and 94 farmers.