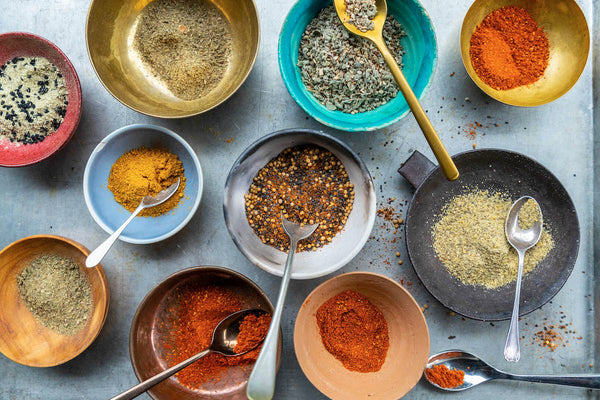 Voyager at Williams Sonoma
Together with Williams-Sonoma, chef Eric Ripert and La Boite's Lior Lev Sercarz are bringing back their collaborative line of spice blends, the Voyager Collection, just in time for spring. This month we talk to Eric and Lior about them.
Thank you two for taking the time this month to sit down with us and share about the new direction your collaboration has taken.
Can you tell us a bit more about the blends that people can now purchase in store at Williams Sonoma?
Lior - After more than about 4 years we are very excited to partner with Williams Sonoma and share 5 of our voyager collection blends with cooks around the country. They can be used to elevate everyday cooking and give a fun twist to familiar recipes.
Eric - In selecting five blends to share with Williams-Sonoma, we want to give the home cook an exploration of our Voyager Collection and inspire them to play with the unique flavors to create new dishes to share with their friends and families.
Very nice! How did the Voyager collection begin?
Eric - For years, Lior supplied Le Bernardin with spices and custom blends, the quality and uniqueness of which always stood out to me. We actually refer to him as the Spice Master – Lior has a strong and deep understanding of how to develop flavors from food through seasoning, and we both have an overwhelming enthusiasm for international travel and global cuisine that seemed to dovetail naturally into a collaboration highlighting specific regions as inspiration for distinct flavors…and the Voyager Collection was born!
Lior- I had the great pleasure and honor to meet Eric for the first time more than 7 years ago. What started as a casual chat about spices and cooking became an amazing work relationship and friendship. We both share a passion for everything tasty and love exploring other parts of the world mainly through food. I was very inspired by Eric's personal story as well as his travels. We wanted to capture the essence of these experience and showcase that you can bring the wonderful global flavors into your home.
Being based on travel, the Voyager blends are a bit different from traditional spice blends. What would you like the cook who uses them to experience?
Eric - Together, we've been able to turn memories – like my childhood growing up on the Riviera—into seasonings that people all over the world can use. We want to inspire cooks to travel this culinary journey with us…to open a jar, and feel transported to Antibes, or the Basque country, or wherever. And of course, to make something delicious at home!
Lior- We would love for people to try them on anything that they already cook and eat. You will see how easy it is to transform the flavors to something new just by changing the seasoning.
What's a fun fact people might not know about you that you'd like for everyone to know?
Eric - Sometimes, when I'm alone in the kitchen, I sing…badly!
Lior - Aside from the fact that I eat ice cream nearly every day, I collect vintage food boxes and currently have over 1000 of them.
Thank you!
The blends are in Williams Sonoma stores nationwide and should also be available online in the near future. More details on all five blends below.
----
Available in Williams-Sonoma stores across the county, the collection features five aromatic blends inspired by the duo's world travels, created with the home cook in mind: Sesame & Orange, Seven Pepper, Mediterranean Herb, Salt & Citrus Spice and Smoked Paprika & Ginger.
Each blend is sold individually in jars, complete with recipe card, for $15.95.
Sesame & Orange
Inspired by the neighborhood in Tokyo where classic shichimi togarashi was first created, this blend of sesame seeds, soy sauce powder, orange zest, and red chili flakes imparts nutty, citrusy,and umami flavors to a variety of seafood and vegetables.
Seven Pepper
Highlighting acidity, citrus and floral notes, coarse texture, and a light sweetness, this all-purpose blend of Basque Espelette pepper and black pepper offers an entirely new way to enjoy this spice, which is typically associated with heat.
Mediterranean Herb
Capturing the coastal essence of wild herbs, like mint, that grow along the French Riviera, this herbaceous blend brings a fresh, floral element to grilled foods.
Salt & Citrus
Inspired by Eric Ripert's birthplace in Antibes, France, this blend of grey sea salt crystals, bergamot, and herbs captures the essence of the sea with acidic citrus notes, which is perfect for everyday cooking.
Smoked Paprika and Ginger
Inspired by the Berbere spice blend that is essential to Ethiopian cuisine and culture, this blend combines paprika, cumin, ginger, and garlic to add a warm, earthy richness to broths or grilled vegetables and fish.