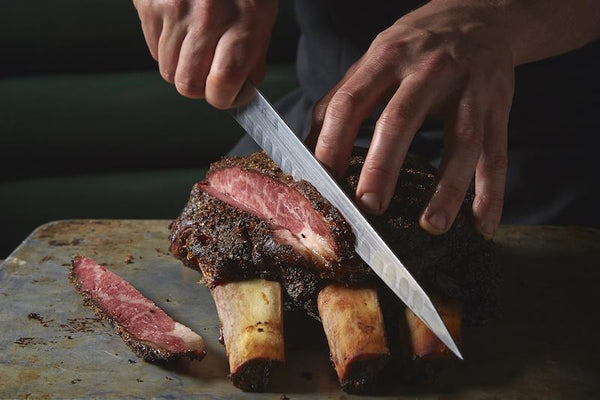 Yehuda Sichel and Abe Fisher Restaurant
We have an exciting collaboration dinner coming up on June 15th with Yehuda Sichel, executive chef at Philadelphia's Abe Fisher. This month we talk recipes, spices, and where to eat!
1. Congrats on coming up on Abe Fisher's two year anniversary! Please tell us a bit about yourself, how you came to be a chef, and your current favorite thing about your job.
Thank you so much! I started cooking back in Baltimore when I was 15 years old, working in a deli. I moved to Israel to study at the Jerusalem School of Kosher Culinary Arts, and then spent some time working in Los Angeles before settling in Philly. I was lucky to land in the kitchen of the legendary Chef George Perrier at Brasserie Perrier, where I learned the art of classic French technique. My cooking took a sharp and lasting turn once Mike Solomonov and Steve Cook hired me at Zahav. It was there that I found a home and a company that I wanted to give everything to. And I was incredibly lucky when the idea for a restaurant serving food of the Jewish Diaspora came about. I think Abe Fisher's food speaks to me and so many in such a personal way. I'm always pushing myself to focus on changing the menu as often as I can, and both teaching and encouraging my cooks to grow a little bit every day.
2. Which dish on the regular menu do you think has the best story behind it?
The Hungarian Duck. When we first opened Abe Fisher, the dish came with a different set of sides. It got to a point where I was really fired up about the dish, and was simultaneously going to Chinatown for peking duck a lot after work. And it occurred to me that it would be fun to take the traditionally Jewish ingredients that we already have on-hand and give them an Asian spin. So then we thought okay, how about steamed buns, schmaltz rice, and everything-bagel breadcrumbs on top of sautéed watercress. We started making hoisin sauce with lekvar (a Polish plum paste) and teriyaki with Manischevitz, and really never looked back.
3. Do you have a simple recipe that you can share with our readers?
This chicken liver mousse is homey and packed full of flavor. The accompanying pastrami onion jam is a fantastic way to eat more pastrami.
© Michael Persico
4. What is your favorite herb/spice and why?
Black pepper because it's so versatile. When you smell it, the aromas actually open up your nasal passages so you can taste your food better. And when you taste it, it opens up your palate. I also really love Coquelicot N.24. It reminds me of everything bagel spice but is much softer and more versatile.
© Michael Persico
5. Where do you like to eat when you go out in Philly?
After work, I go to Ken's Seafood in Chinatown for peking duck, XO eel and salt & pepper shrimp. Lately I've been loving this new spot Double Knot down on 13th Street. They have super fresh sashimi dishes and I love those grilled Japanese skewers – like octopus and prawns. I would be very happy eating sushi every day.
6. Tell us a bit about the menu you and Lior are serving on the 15th, which dish are you most excited about?
I'm psyched for our dinner with Lior. I really admire him for his ability to hone in on his craft so intently and with such passion. For this dinner, I wanted us to choose dishes that were comforting and nostalgic, blending where my family came from (Hungary) and where Lior came from (Israel and France) to come together in a spice-forward, family-style meal. I'm particularly excited for the summer goulash soup. It's a dish I've actually never made, but I absolutely love soup – it makes me think of Shabbat dinner. And I also love working with beef cheeks. Back when I was at Zahav, I used to cure beef cheeks with Sheba N.40, so I'm excited to bring that small piece of Zahav to AbeI
--Menu and tickets for the dinner are available here--
Yehuda Sichel is the Executive Chef of Abe Fisher in Philadelphia – a restaurant from partners Michael Solomonov and Steven Cook of CookNSolo restaurants – which explores the expansive global influences and flavors of the Jewish Diaspora.
Abe Fisher has earned a 3-bell review from the Philadelphia Inquirer and Inquirer food critic, Craig LaBan, named Chef's Montreal Short Rib dish his "feast of the year" in 2014. The restaurant also earned a semifinalist nomination in the 2015 James Beard Award's "Best New Restaurant" category.