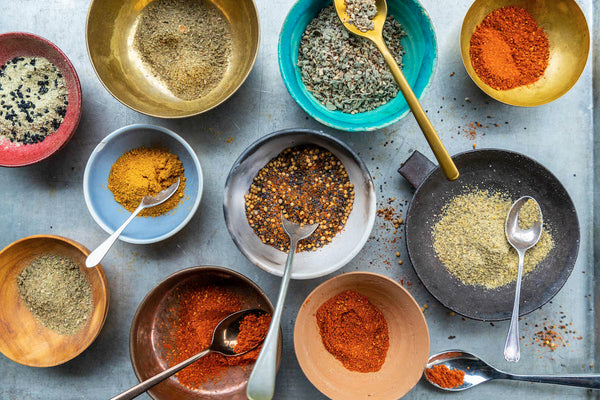 Lucky Peach: First-Class Survival Kits
First-Class Survival Kits
BY ARALYN BEAUMONT MARCH 31, 2015
Lior Lev Sercarz
Founder, La Boîte
Four years ago, the New Yorker told the story of Eric Ripert's custom Louis Vuitton knife case. At the time, the hard-bodied, black-leather, multi-shelf case, with special slots for Ripert's most-used tools, had one space left unfilled. Lior Lev Sercarz, who'd been blending spices specially for Ripert, suggested a spice box that would hold three small jars, each filled with a spice mix inspired by Ripert's upbringing in the south of France, along with a small wooden spoon for doling them out.
Sercarz and Ripert realized that a certain species of discriminating food nerd might also share their affinity for custom spices, so they commissioned 365 more boxes, signed the tops, and created recipe cards for each spice. "It's for people who have a second home that's not as big, so they don't have to have a huge pantry," Sercarz says. "Home cooks enjoy the spices for what they are, but also enjoy the box for the beauty of it."
The duo have since created a second Voyager collection that includes Amahari, their take on Ethiopian berbere; Massalis, a sweet and savory curry; and Yagenbori, inspired by the shichimi tōgarashi in Tokyo. "We work together on the whole process," Sercarz says. "We eat a lot of popcorn and talk about food and recipes and come up with everything from A to Z."
Ripert and Sercarz have completed a third Voyager collection that will be available this spring, both on its own and as part of a complete Voyager set that will have its own, larger, travel case. The third collection will feature spice blends inspired by Australia, Korea, and Puerto Rico.
Sercarz has his own spices that he cannot travel without: Pierre Poivre N.7 (a blend of black, white, red, and green peppercorns with rotating varietals and origins) and Cancale N.11 (fleur de sel, orange, fennel, and other spices). "If I don't take it with me, I'll ship it ahead of time," Sercarz says.
Voyager Set I
Box Dimensions: 6.5" L x 3.5" H x 2.5 W
Price: $72
Spice Blends:
Sel d'Antibes (1.5 oz)
Grey salt, bergamot, spices
Associated recipe: Crudo of hamachi with orange, radish, and scallion
Good with beef, cheese, crustaceans, salads, vegetables
Le Poivre (1.25 oz)
Espelette and tellicherry peppers, spices
Associated recipe: Baby Kale Salad "Niçoise Style"
Good with beef, crustaceans, pork, salads, vegetables
Riviera Herbs (.5 oz)
Rosemary, mint, basil, spices
Associated recipe: Sautéed lamb chops, arugula salad, and Greek-yogurt dressing
Good with beef, chicken, fish, sauces, vegetables
Source: http://luckypeach.com/first-class-survival-kits/