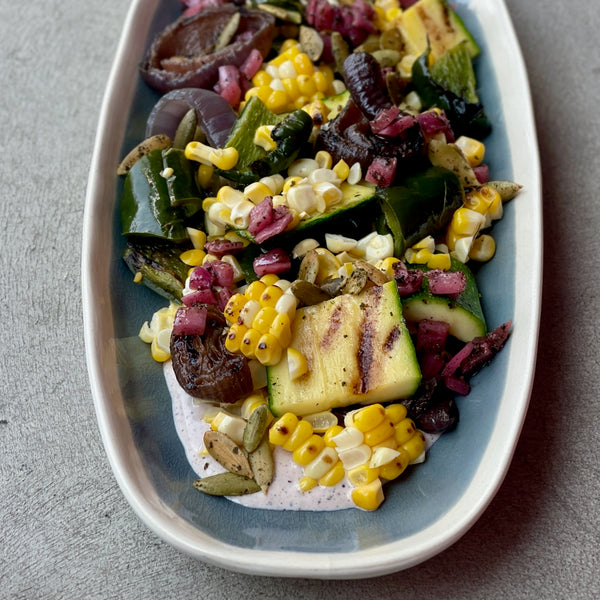 Corn Recipes
Let's savor summer to the very last drop.  Simply rolling fresh, hot corn on the cob through an easy compound butter would be great.  Here are some of our favorite corn recipes to continue the love of corn.  
Whether you make one big one (and top it with shrimp like this one) or 2 thinner crisp ones, or a platter full of corn latkes...this recipe is a keeper.
So simple and so delicious - corn ribs are even easier to eat than whole corn.  Marinate them to bring out the caramelized flavor and slather on the creamy sauce.
Corn and poblano are such a great pairing inspired by the classic dish rajas.  The marinated red onions and yogurt sauce both with Oz add to the irresistible chary flavor.
Either on the cob or in a bowl esquites style, roasted corn coated in creamy shabazi tahini sauce + cheese + spices = a good day.
Tossed with nutty baby arugula and sweet red onions, this grilled corn salad is even more delicious with a squeeze of fresh lemon and Coquelicot lemon poppy vinaigrette.
Corn is also one of the best parts of a seafood boil.  Come for the seafood, stay for the corn.
I couldn't resist - it's in the name!  This crunchy stovetop version of popped corn spiced up with Kanchan's Spice Dabba will make you wonder why you don't have it more often.