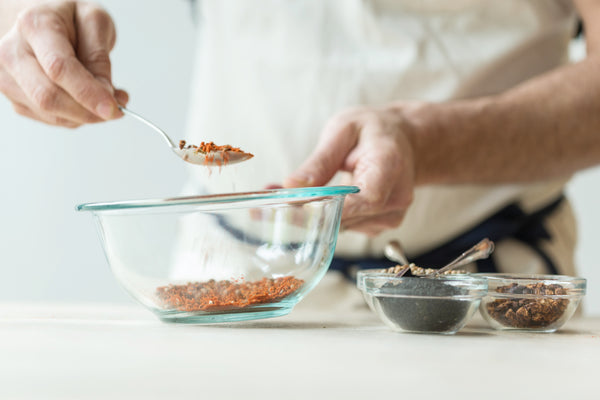 Za'atar
Every month, we highlight one of our spice blends in the hopes to better educate our clients and to inspire them to try new flavors. La Boite's founder, Lior Lev Sercarz, has formulated each blend to elevate your culinary experiences. Each blend is inspired by a person, a place, or a dish, with the flavors working together to tell a story.
Za'atar is a very special blend to us because, well, it's an absolute essential! It's so versatile and can be used in either hot or cold applications; we find ourselves reaching for a pinch of Za'atar almost everyday. 
Za'atar is used all over the Middle East and varies depending on what area or region you are in. However, the basic blend of sumac, sesame seeds, and za'atar leaves is almost always used. The za'atar leaves lend a floral, earthy fragrance to the blend. The sumac adds a tangy punch and the sesame seeds add nuttiness. The texture of the blend can be course or finely ground. In our version, the spices are very finely ground, but the sesame seeds are kept whole for crunch. 
Here are a few ways to use Za'atar:
Mix with olive oil and lemon juice to season thinly sliced red onions for a Middle Eastern-inspired salad

Sprinkle on top of soft boiled eggs

Mix into yogurt and use as a dip for bread or veggies
Recipes using Za'atar