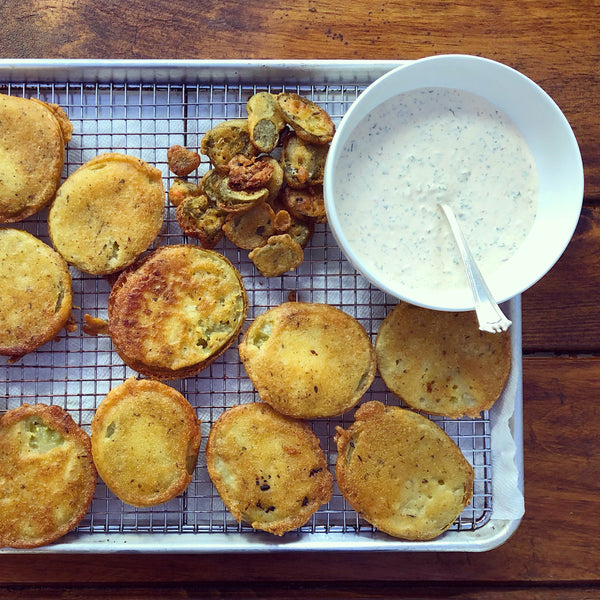 Ideas for a Derby Day Party
The Kentucky Derby is always a great excuse to get together with friends, eat good food and drink good drinks, even if you know nothing about horse racing (which is usually the case!). Here are some essentials you need for throwing a successful Derby party:
1. Invitations
Whether it's a zoom link, an email invite, or a physical invitation, make sure you invite your friends and let them know details early. This way they can get excited, find a good hat to wear, and decide what they're bringing, if you're throwing a pot luck. 
2. Decorations
Red roses are a key decoration for a Derby Day party! The race is nicknamed "A Run for the Roses" after all. 
3. Hats
One of the most well-known Derby traditions. Inspire your guests to go all out with their headgear and throw a hat contest, whoever has the best hat wins a bottle of bourbon. 
4. Great Food
Here are some La Boite recipes to give you menu inspiration for your party!
A great recipe for using unripe tomatoes (which are almost always available in the South) and they're so delicious! Serve with a dipping sauce like this Mean Green sauce. 
Another great dipping food, these Kraut Cakes are made with pancake mix and cornmeal, making them super quick and easy to make. Perfect for when you can't find green tomatoes.
A great recipe for a crowd with a relatively hands-off cooking experience. The meat comes out flavorful and tender, with an amazingly crispy skin. 

A savory bread pudding made with spinach and mushrooms. If you're feeling fancy, serve with hollandaise. 
5. Drinks
Stay tuned for our Julep recipe! Mint Juleps are the official drink of the Kentucky Derby, classically made with fresh mint, bourbon, and a little simple syrup, but you can count on our recipe having a spicy twist!
Here are a few more drink ideas:
A tart, refreshing cocktail made with Terra Gin and the Daisy spice blend from Mastering Spice. 
If you don't drink: Limonana
A classic Middle Eastern alcohol-free cocktail made with spearmint leaves, lemon, and a bit of sugar.