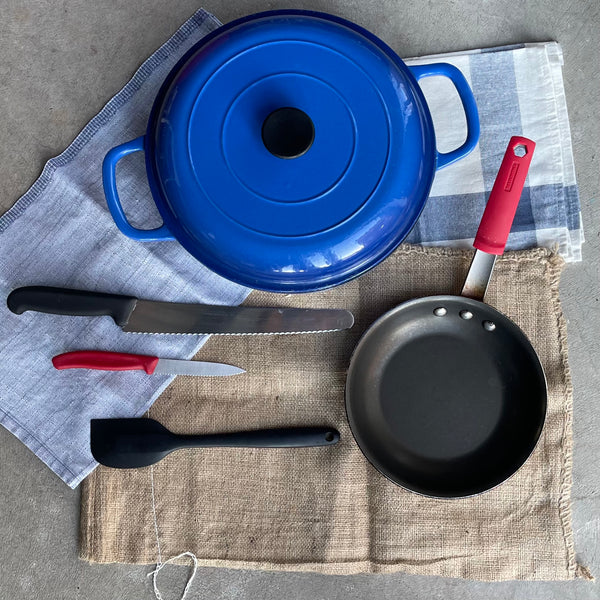 Our Top 10 Cookware Gifts
To us, the best gifts are those that will be put to good use, which is why we often find ourselves gifting friends and family our favorite cookware items. They're convenient, versatile, and range in price, so you'll always find something that works. Here are our top cookware picks from Amazon:
The ultimate kitchen must have! If you are an avid La Boite recipe reader, chances are you've seen this pot in our photos. It's extremely versatile, plus it looks gorgeous sitting on your shelf or stove.
A great bread knife is essential and unlike other knives, there is no need to spend a ton of money on a serrated knife. This trusty one from Victorinox is what we use in the La Boite test kitchen everyday. 
A fast way to get uniform cuts on vegetables and it's easier to use and faster to clean up compared to your standard mandolin. A great gift for someone who entertains a lot or someone who's knife skills aren't up to snuff. 
A powerful blender can truly change someone's life. This model from Blendtec is a great gift for an avid cooker who will appreciate a higher quality appliance. 
If you take care of it well, a cast iron skillet will last you a lifetime, making it a wonderful gift for many home cooks. Plus, they are extremely affordable!
Great stocking stuffers and they work with nonstick pans!
The mini 3.5 qt version of the classic Kitchenaid stand mixer is great a great starter mixer and perfect for people living in apartments. 
This set comes with spatulas in a versatile variety of sizes, which makes them useful for a variety of kitchen tasks. Another great stocking stuffer.
One of the most used pans in our kitchens and a wonderful gift to give or get!
 Another knife we use on the daily. A great addition to anyones collection.