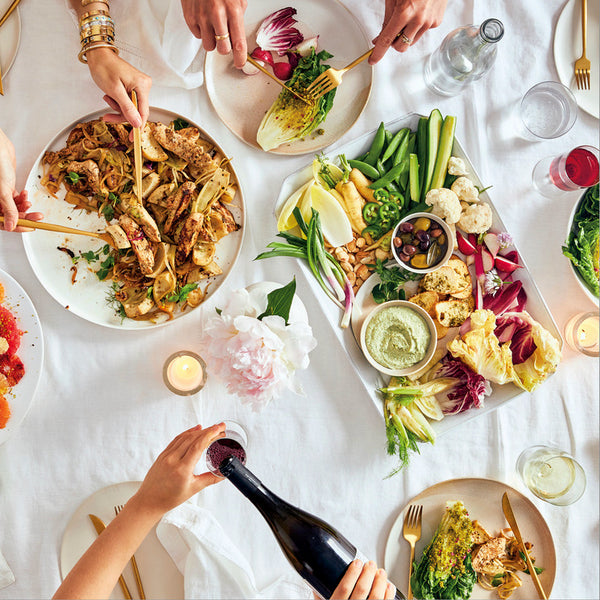 Rosh Hashanah Menu
In planning for this year's beginning of the Jewish high holiday season, we bring together some good classics, a few of Lior's favorites and some recipes from our friend Kim Kushner's new book The Modern Table.  If you don't already own a copy, it is a beautiful book that brings together the full picture of entertaining in Kim's beautifully soulful as well as modern style.  From table scapes, fresh seasonal salads, whole roasted chicken with lemon and garlic cloves, and even a cake seasoned with rose petals.  To make sure you don't forget, there is even a section on making beautiful, simple, and very thoughtful hostess gifts.  Whether you're a host, a guest, or just a food lover the book will definitely serve inspiration. 
According to Kim, this is the easiest soup ever.  It's important to balance easy, long and slow, and fresh and fast when planning a holiday menu to make sure you can execute it all in a timely manner with minimal stress.
Full of fresh and crisp, apple, almond, and romaine dressing with lemon poppy vinaigrette.
 A great braised carrot dish for fall, holidays or not.  Sweet, savory, and full of warm notes of cumin, cinnamon, thyme, and dried fruits to glaze the carrots.
Such a flavorful and creamy way to make non-dairy mashed potatoes.
This is the family style classic complete red wine sauce and fresh pomegranate for a seasonal touch.
A great chicken dish with just enough to make it fancy enough for a high holiday gather but easy enough to make any day special. 

Caramellized, moist, apple upside-down cake is a great way to finish a meal - new year or not.
The holiday isn't complete with challah (is it ok to say challiday?).  Lior likes to make this one special by adding extra touches and braiding them around bowls for honey and apples for a sweet new year.
Any recipe you love (or would love to try) with the words short ribs can also be a great brisket option.  Just swap the cuts of meat and go for it.  Mike Solomonov's mother's brisket is the one we are leaning towards for this year.