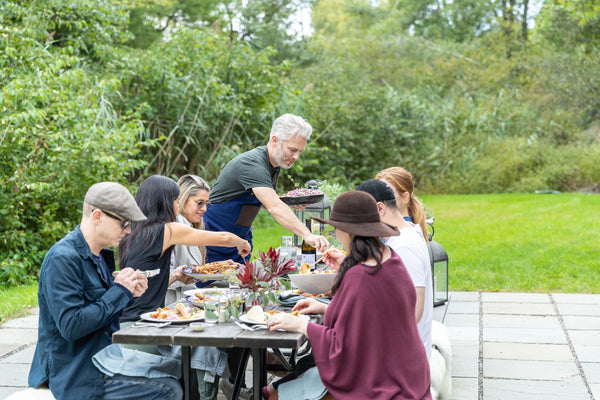 8 Things We're Excited About
As we approach a new season, we are looking forward to sunshine, longer days, and warmer weather. With this comes a slew of things to get excited about, some new and some revisited from the last season. Here is a list of eight things the La Boite staff is currently obsessed with to inspire you!
1. Daily Provisions Roasted Chicken
A must-go cafe if you live in New York City! Our Culinary Director, Helen Park, is currently obsessed with their Whole Roasted Chicken, which can be delivered hot and fresh at 8 am in the morning. It's a fridge staple for her, capable of being turned into various quick meals, like soups, sandwiches, salads, and more!
Helen is obsessed with convenience and high-quality food, so a flavorful, perfectly cooked chicken is a must-have. If you aren't in the area, a rotisserie chicken is the next best thing for convenient, quick meals. The best part is getting home from the grocery store and standing around the kitchen counter eating the chicken while still warm. Remember to save the bones to create a flavorful chicken stock to keep in your fridge or freezer!
2. Caffe Panna Ice Cream
This little ice cream shop in the Gramercy neighborhood of NYC is serving up creative pints, sundaes, and affogatos Wednesday through Sunday. Flavors include things like mascarpone ice cream with fig jam, carrot cake, and more. If you aren't in the city, don't worry, they ship their ice cream pints nationwide through Goldbelly - and, yes - it is totally worth it.
3. Farmers' Markets
Of course, farmers' markets are available year-round, but markets in the summer are the most exciting to us. Fresh heirloom tomatoes, berries, stone fruits, sweet corn, and more will start filling up the stalls at our favorite markets in the coming weeks, opening up a world of new flavors and recipes to make all summer long.
4. Cabbage
The perfect filler vegetable. Our Social Media Manager, Cammy, has been putting white and purple cabbage in practically everything recently to bulk up the vegetable content of her meals. Shredded white cabbage is amazing in things like curries and soups and she uses purple cabbage to add color to sheet pan dinners and salads. It's even delicious sautéed and served with rice for a quick, vegetarian meal or snack. You'll always find at least one head of cabbage in her fridge!
5. Grilling
Lior has always been known to be obsessed with grilling, which can be attributed to his affinity for Middle Eastern cooking and cuisine, where open fires are used to cook many dishes in the region. And although Lior grills all year long, summer is really when things start to heat up. 
One product we're obsessed with is Prime6 Charcoal, a unique, new kind of Charcoal that burns longer and is better for the environment. You can get a 10% discount on their 9 lb charcoal here. 
6. Al Fresco Dining
'Tis the season! This winter in New York was long, cold, and drab, so we are welcoming the change of season with open arms. Something about sitting around outside and sharing a meal with friends guarantees an incredible time. The best way to do it is to cook a family-style meal, like a Seafood Boil or a big pan of Paella, serve some good wine, add a fresh summer salad as a side.
7. Beast Blender
A one-of-a-kind blender that's truly one of the best we've used. It's ultra-powerful, small, and even looks great sitting on the kitchen counter. One of the things we absolutely love about this product is its ability to make drinks so smooth and get rid of fibrous material. You can blend celery into a juice and not have to worry about stringy strands being left behind.
8. Functional Drinks
Another one of Helen's current obsessions and the reason we were introduced to the Beast Blender are functional drinks for on-the-go nutrition. She loves making a savory green juice full of healthy vegetables like cucumbers, kale, spinach, mineral drops, and water, or she goes with something more protein-heavy as a meal replacement, like yogurt and protein powder with a splash of water and ice.
Functional drinks are an easy, fast, and fresh way to get a portion of your daily nutrition.