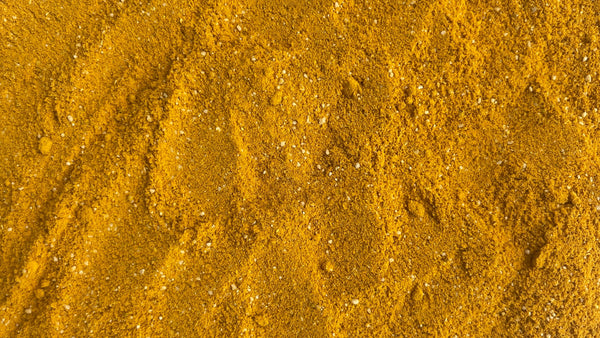 Curcumade
Each month, we highlight one of our spice blends to better educate our clients and inspire them to try new flavors. La Boite's founder, Lior Lev Sercarz, has formulated each blend to elevate your culinary experiences. Every blend is inspired by a person, a place, or a dish, with the flavors working together to tell a story.
Curcumade
There is nothing better than finding new ways to use blends that were originally created for a single purpose. Much like D'Vora, which was originally created for adding to falafel but has now found its way into a multitude of recipes, Curcumade's purpose was to make bright, turmeric-based drinks during the pandemic. However, we've found that its brightness and tartness are amazing in so many different dishes it would be a shame to only use it for drinks!
Lior crafted Curcumade in early 2020 when the Coronavirus pandemic was first starting as a delicious way to get get the health benefits of turmeric in a drink. Alleppey turmeric is a darker, bolder kind of turmeric that is the primary ingredient in the blend. Aside from giving the blend a gorgeous color and bright taste, Alleppy is known to have up to 5% of the curcumin compound which is what gives turmeric its anti-inflammatory properties. Amchoor, or dried green mango, gives the blend a little tartness and sweetness and cayenne adds a touch of heat.
To make a quick immunity-boosting drink using Curcumade, you can add 1/2 teaspoon of the blend per cup of water or other liquid. The blend is also great in quick-cooking meat dishes like roasted chicken or fish or added to sipping broth or soup.
Curcumade is a part of our Summer 2022 Set, which you can find here.
Get Curcumade for 25% off for the month of August with code CURCUMADE25!
Recipe Ideas
1. Add a tablespoon of Curcumade two every two cups of brewed tea, add some fresh lemon and sweeten to taste for a Curcumade palmer.
2. Use to season grilled chicken thighs with salt, pepper, and olive oil.
3. Make a shaker top with your spice jar and add a dash or two to avocado toast. Watch how to make a quick shaker top for your spice jars here!
Other Recipes