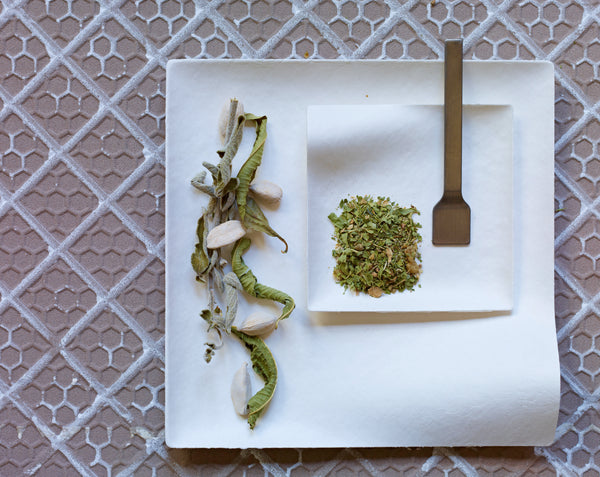 Galil N.13
Each month, we highlight one of our spice blends to better educate our clients and inspire them to try new flavors. La Boite's founder, Lior Lev Sercarz, has formulated each blend to elevate your culinary experiences. Every blend is inspired by a person, a place, or a dish, with the flavors working together to tell a story.
Galil N.13
Out of all the blends based on location in our main collection (like Breeze, Reims, and Luberon), Galil hits closest to home for Lior. Blends that are inspired by places oftentimes stir up feelings of nostalgia and romanticism as they try to capture the essence of the region. 
Galil is a testament to spring in the Galilee in Israel, which is fragrant and fertile. It's a place that people seek out because of its lush beauty and ethereal scents. To recreate this in spice form, Lior blends lemon verbena, which is citrusy and floral, white cardamom, and sage, which adds deep, slightly bitter notes to the blend.
All together, they create a blend that feels and smells like spring, so that when you open a jar you are immediately transported to memories of your favorite springtime as a child, stomping around fields after a light rainfall. 
A blend like this can do wonders when you cook with it because of its duality. The citrusy floral tastes lend well to dishes like seafood chowder, as they add an element of freshness. Galil is also great with simple dishes, like mussels or even roast chicken, as it elevates but never overpowers. It's also a special blend because it can be steeped in water and sipped on or even used as a broth to poach fish in.
Please enjoy 25% off of Galil for the month of April with code GALIL25!
Recipe Ideas
Combine 1 tbsp Galil per 2 cups of water in a French press to make hot tea (or chill to make iced tea).
Add 1 tbsp Galil to a quart of fish stock for poaching shrimp.
Quarter fresh peaches, brush with honey and sprinkle with Galil. Grill and serve with Manchego cheese.
Recommended Pairings
Steamed clams - spiked hot cider - poached pears - pork curry - roast duck
La Boite Recipes