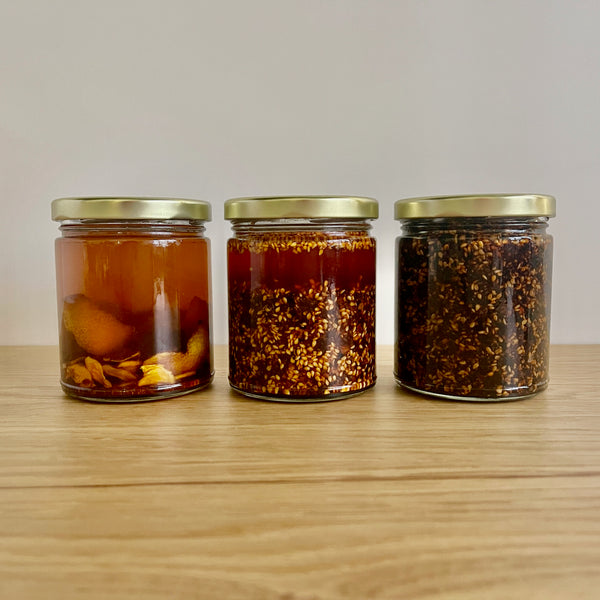 Chili Oil Three Ways
There are so many amazing ways to enjoy chilies. You can have them fresh or fried, ground or whole, flakes or powder. And they're delicious in a wide variety of dishes, including desserts.
One of the easiest ways to celebrate chilies is by making flavorful chili oils that can be used for pastas, dips, condiments, and as ingredients in a dish. Below you'll find three different chili oils with three different flavor profiles and heat levels. Each are approachable, versatile, and use a multitude of chilies for maximum flavor. 
The easiest and mildest of the three. Fresh lemon zest, dried garlic slices, and high quality Espelette slowly infuse oil with the flavors of the sun. This bright orange oil is a beautiful finishing oil or it can be used to enhance dishes with fragrant flavors. Toss the oil (with the lemon and garlic!) into cooked pasta with a bit of pasta water and top with cheese for a quick dinner.
Inspired by Lao Gan Ma, this nutty, crunchy, and slightly hot version is addictive. Pouring hot oil over the spices lets them infuse with the oil quickly and brings out all of their fragrance and depth of flavors. This oil is definitely the hottest of the three, but don't let that deter you. Along with the heat, you'll find interesting layers of flavor and texture. Drizzle this over a bowl of white rice with a fried egg and cucumber. 
If Salsa Macha and Chili Crisp had a baby it would be Chili Noir. This oil is a medium level of heat, meaning you can add loads of it to any dish that fits. Flavor profiles include nuttiness from the sesame, plus earthy sweetness from chiles, and warmness from cardamom and allspice. Serve it on top of a smear of labne. 
More La Boite chili oil recipes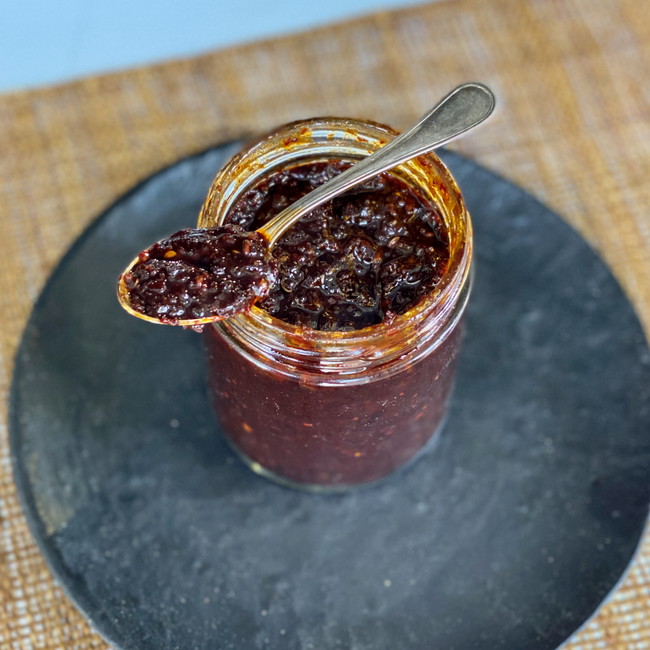 An addictive condiment made with Izak, honey, and oil. It's texture and flavor make it wonderful for adding on top of dishes or using it as an ingredient in dishes like Gambas al Ajillo.
Aromatics and whole spices are cooked and then drained out of the oil. A perfect way to add a touch of heat to almost any dish. 
Questions? Contact helen@laboiteny.com