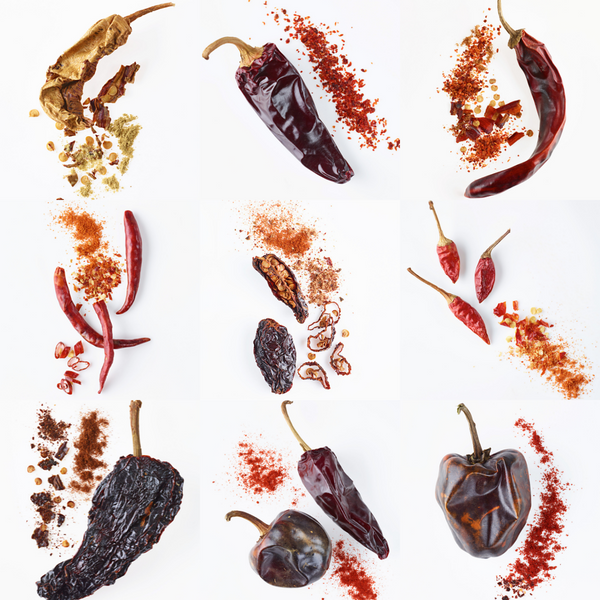 All About Chiles
For the month of January, we are celebrating all things chiles! Chiles are an important ingredient in almost every cuisine from around the world. They grow in many different countries and regions and each has their own unique flavor profile. Join us as we take a deep dive into the chiles of the world throughout the month of January!
Please enjoy 25% off the entire La Boite chile collection with code CHILI25 foer the month of January. You can find our chile collection here. 
When one thinks of chiles, they might immediately think of heat or spicy food. It's important to note that there is a differentiation between when food is hot versus spicy. Hot is used to describe foods that have a burning sensation when they are eaten. Spicy is used to describe foods that are seasoned with a multitude of spices. These words are often used interchangeably to describe chiles, but they have very different meanings.
The Scoville Scale is used to measure how hot certain foods are. The units are measured in Scoville heat units or SHU. For example, bell peppers and other foods with no heat are at the bottom of the scale with 0 SHU. The Carolina Reaper is at the top of the scale with 2,200,000 SHU.
While a lot of chiles have some level of heat to them, not all of them are unbearably hot. And, even so, chiles have a lot of complex flavor profiles. You can taste sweetness, fruitiness, and acidity in a lot of chiles. Dried chiles are hotter than fresh because their flavors are more concentrated.
Types of Chiles
 A sweet-hot chile grown by rigorous standards exclusively in and around the French town for which it is named. 
Aside from being one of the most delicious chiles, with its sweet citrus notes and slight acidity, the most interesting thing about the Espelette chile is its growing practices. About twenty-five years ago, farmers created rules and regulations on how Espelette chiles can be grown, harvest, and processed. The result was a French AOC geographical origin recognition and a European PDO label. This means that only chiles grown in the region and processed accordingly can be sold as Espelette. So, when you buy Espelette, you can be sure that you're getting the best possible quality.
Recommended Pairings
Olive frittata - endive & goat cheese salad - duck cassoulet - mushroom gnocchi - orange sorbet
A highly versatile, ubiquitous fresh or dried medium-heat chile.
Although they are mainly used fresh, we like to rely on the ground green powder for spice blending. It retains a fresh scent and a lot of its heat when in powder form and also introduces a bit of acidity to blends and dishes. Part of the reason why jalapeños are so popular is because of their versatility in dishes. Not only do they add a familiar pepper taste, but the heat is welcomed by many. We challenge you to experiment and play with using dried, ground jalapeños and see where it can lead a dish!
Recommended pairings
Mango salad - chimichurri - snapper ceviche - fried eggplant - prok sliders
A rest-red, mild to hot spice made from ground capsicums.
Many dishes call for paprika to help lend its beautiful deep red color to the mix, but many forget that paprika also has a delicious, versatile flavor. The quality of the peppers is entirely dependent on the growing environment, meaning that crops can vary from harvest to harvest. Sometimes, you can get a beautiful, deep red color that has minimal flavor. Other times, the ground pepper will taste sweet and sunny, but the color isn't as bright. To us, flavor is king, so we source our Hungarian paprika based on flavor and scent.
Expert tip: When you see Moroccan paprika, don't be tricked into thinking you've scored some rare variety of the spice. It is simply normal paprika with a touch of oil added in to give it humidity and stronger fragrance.
Recommended pairings
Deviled eggs - crab bisque - sweet potato velouté - refried black beans - braised oxtail
A variety of fiery, fruity chiles from Italy's Calabria region.
These low to medium level heat chiles have    a bright citrus aroma with sweet and sour notes. In a high quality peperoncini flake, you can taste the Calabrian sun when you add them to dishes. 
Recommended pairings
spinach frittata - lemon risotto - jerk chicken - shrimp & grits - grilled sardines 
 A smoky or not, mild or hot spice made from a number of peppers.
Pimentón is produced from a variety of peppers, so no one pepper can take credit for it. At La Boite, our pimentón is smoked, which gives it smoky, sweet, and acid flavors with pleasantly bitter notes. It's an essential spice in our kitchens!
Recommended pairings
corn succotash - egg salad - mac & cheese - clam chowder - lamb ribs
A smoky-sweet, mildly hot chile with an unusual drying process.
Named after the Turkish town of Urfa, this chile has a very unique aroma and flavor. Chocolate and wine tannin scents immediately hit the nose upon opening a jar. The taste is sweet and acidic with mild heat. The drying process involves covering the chiles in fabric at night to retain their essential oils making them slightly humid. 
Recommended pairings
fried eggs - carbonara - bbq sauce - hummus - chocolate mousse