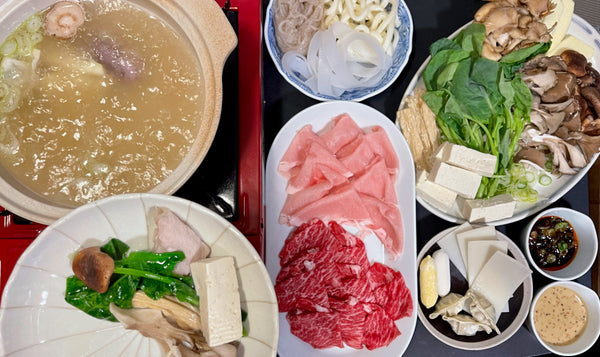 Celebrate Lunar New Year With a Hot Pot
Celebrate Lunar New Year With a Hot Pot at Home
Lunar New Year is celebrated on the second new moon of the Lunar calendar, which means this year, it falls on February 1st. This year is the year of the Water Tiger, symbolizing strength, courage, and ambition. 
Lunar New Year is observed in many countries throughout Asia and is a time of celebration and tradition. Traditions include cleaning your home, spending time with family and loved ones, enjoying customary foods, fireworks, and dancing. Because food and family are what matters most to us, we decided to develop a hot pot recipe for the New Year. 
Hot pot is equal parts a dish and an experience that highlights communal dining customs found in East Asian countries. The social aspect of the hot pot combined with the popularity of the dish across many Asian countries make it especially great for Lunar New Year.
One of the best things about hot pot is the versatility - it is truly a dish meant to be customized to your liking and which ingredients you have access to. All you need is a pot of flavorful, boiling broth and you are 95% of the way to a hot pot. 
The Broth
The broth can be chicken stock, homemade vegetable broth, packaged broth (both mild and spicy) from the Asian grocery, or even water with a square of kombu dancing around the simmering water. At a restaurant, you might see multiple broth options, but at home, stick with one for simplicity's sake. Add some ginger or other aromatics like spices and herbs for a more complex flavor. 
The Vegetables
This is your opportunity to get in a week's worth of vegetable servings in one sitting. Arrange yourself a big platter of your favorites. Mushrooms, leafy greens, sweet potatoes, carrots, beansprouts, squash, and any seasonal ingredients will work and taste delicious. You can also add tofu or yuba. 
The Meat & Seafood
If you're serving meat, we recommend using a lean cut and a fatty cut. You need paper thin slices. You can typically find them at Asian grocery stores, where they are sometimes labeled Shabu Shabu. These thin, pretty rolls of shaved meat might be in the frozen section, as they are lightly frozen to keep the pretty rolled shape.These are easier to handle while frozen and defrost quickly, so bring them to the table last. You can also ask your butcher for ultra thin slices or you can slice them yourself if you're skilled enough in that arena. 
For seafood, shrimp, scallop, squid, and small clams tend to be easier than fragile filets of fish.
Feel free to do a combination of seafood and meats. 
The Extras
This is where you can truly customize your own hot pot. Add in extras like sliced rice cake or little dumplings (premade or homemade!) that cook well when poached and served with sauces. The colored, cylinder shaped, rice cakes in the picture have cheese inside.
For noodles, you can get packages of potato starch noodles or vermicelli that you can pre-soak to soften and dip as you go. The soft, chewy texture is satisfying and they are another way to enjoy the sauces. Ramen and udon noodles work well too.
The Sauces
When you go to an all you can eat type of hot pot restaurant, you can find a whole bar full of sauces, condiments, and toppings. In general, we suggest having a spicy sauce and a mild sauce at your hot pot station.
The Recipes
Don't feel like you need to follow this recipe to a T. Remember, the beauty of the hot pot is its customizability. Use what you like and leave out what you don't. Experiment with new flavors and additions. 
A mild sauce that's essential for every hot pot table.
This hot chili crunch sauce will add a kick to your hot pot. It's delicious mixed with the sesame sauce above and smothered all over your dippings. 
Other recipes great for Lunar New Year
A Lunar New Year staple and you can include them in your hot pot. Make a large batch and keep some in your freezer for dumpling emergencies.
Great for dipping thing into or drizzling on top of dishes for added heat.