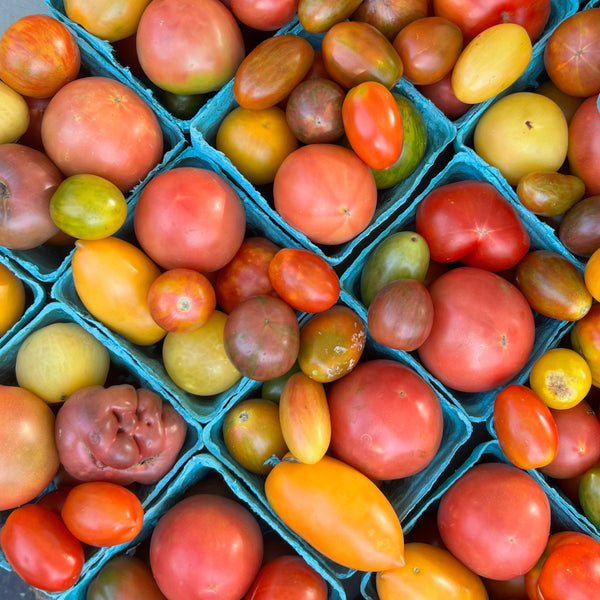 Tomato Recipes
Celebrating the best produce season of the year - late summer.  When tomatoes are out in full force, make the best of the moment with delicious dishes - you can never have too many.
Go big and make a glorious platter of saucy, creamy, crunchy, and smokey platter of this jewel of the season - the TOMATO. 
This picturesque tomato tart uses our light and flakey Basic Butter Pie Dough and a layer of Parmesan cheese to seal while baking.  Don't forget to stud the picturesque tart with Oz Marinated Onions for that deep roasted flavor along with long floral finish of Thai long pepper from the Borneo blend.
Just as there is never too many tomatoes, there is never too much creamy and delicate burrata.  Adding olives, mint, and scallions make this appetizer feel like a dish you'd rather not share.  
As much as we love the simplicity and deliciousness of these crepes, they really are a vehicle for showing off all of the colorful heirloom cherry tomatoes.  Drizzled with liquid gold (aka Makrut Lime Leaf Vinaigrette) and creamy labne.
Grill-caramelized tomato and onions are folded together with tender beans and our Lavender Basil Pesto for a satisfying appetizer or side dish. The leftovers are even better the next day.
If you have that prize winning beefsteak tomato that you just can't bring yourself to chop up, turn it into a crown and broil it with a big quenelle of Bombay compound butter.  Nested in fresh ricotta, finish it with fresh herbs and get the crusty bread ready.
Preserve summer in a jar by making a big batch of Rosemary Tomato Jam to pile onto thick slices of toast with perfectly cooked bacon for a smokey sweet sandwich.  Want it bolder?  We have an addictive Pierre Poivre Tomato Jam too.
Turn ripe tomatoes into a basic tomato sauce - some for now and some to freeze for later - keep the summer going.  It make a great canvas for future dishes too, Shakshuka or Double Brown Butter Tomato Sauce.