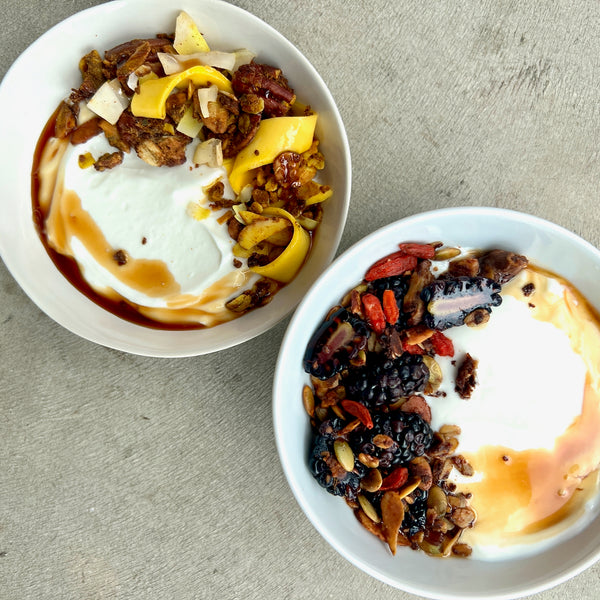 Easy Breakfasts
As we get ready for back to school, back to office, and back into fall here's a list of how we are planning to prepare for the month to come and easier mornings (and lunches) in general.  Most things can be made ahead and reheated throughout the week so take a relaxing afternoon of little prep moments and enjoy the fruits of your labor all week long.  We included both sweet and savory items to add variety and flexibility.
A few options of flavorful, protein enriched, gluten free granolas.  Keep them in airtight containers to keep them fresh and crisp.  They go great as garnish with yogurt and fresh fruit or as snacks on the go.
This has been a go-to ever since we first made it. Light and flakey with a deliciously floral flavor with sesame seeds and halva floss (also made from sesame).  Layer them into a jar with fruit and yogurt for a great make ahead or breakfast on the go.
That's right - sesame.  Its delicious, it's plant-based, and it's a superfood.  It also can be whipped up any time from your jar of tahina.  Delicious and creamy when chilled it's a quick and easy way to make your own milk.
So much flavor in no time.  This is the best avo-egg toast we've had.  Cooked in Everyday Masala and finished with the unique Everyday Indian crunchy finishing touch - it helps get you out of bed knowing this is the reward.
Make an easy compound butter with Shabazi or something else from your collection to make that egg special.  
If you love perfectly cooked clouds of custardy soft scramble, this tofu scramble is for you.  Great right away as well as reheat-able for later in the week (to fill red lentil crepes).
Make a stack and refrigerate or freeze them.  These savory, crispy on the edges beauties are packed with flavor of their own and go great with roasted vegetables, tofu scramble, and of course that cold rotisseries chicken.  Leftovers are living their best life.
I have never had a better flour tortilla at home that I can remember.  They were so good and lasted so well in the refrigerator they filled the space of roti, naan, pita, and tortilla.  Worth the effort for these lacy, chewy, and lightly charred flatbreads.
Now this pita needs no introduction.  They're so good it's almost a shame to pair them with anything else that distracts from the crunchy on the outside fluffy on the inside love child of bagel and pita.  It's everything.
Another make ahead blank-canvas item waiting for fresh fruit, our perfectly cooked kumquats, and sometimes even broccoli and cheese with a pinch of Pierre.
What's your favorite breakfast trick?
Questions?  Contact helen@laboiteny.com