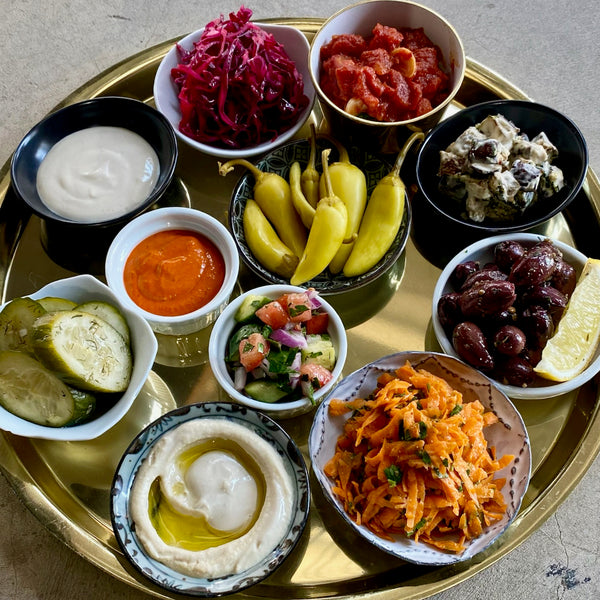 Salatim: From the Israeli Classic to Modern and Seasonal
Salatim is a category, a course, and a critical component to the table when getting together with friends, family, and grilled foods at an Israeli barbecue restaurant.  Literally, it's the plural form of the word salat in Hebrew which means salad but it's so much more than salads.  It's also the spreads, the dips, the pickles, and fresh bread that you snack on as you wait for the main course.  It's like the cross between Mediterranean mezze and Korean banchan before the grilled food arrives.  Restaurants have their version of classics, served all at once as you arrive, on a tray full of matching little dishes to dip and pick at.  They are also typically vegan or vegetarian.  At home, it's really the easiest way to make appetizers - so you have time to spend hanging out with your guests.   Just try not to eat too much or you won't have room for the main course!
In case you missed it, our long time friends at Cook 'n Solo (Zahav, Dizengoff, Abe Fisher, etc.)  received a great review from The New York Times for their shipudiya (or skewers grill restaurant) Laser Wolf where they bring their take on modern salatim to every table.  From seasonal vegetables from the local market like celery root, braised Swiss chard, and matbucha green beans, the ever changing selection of salatim is possibly the best part of the meal.  Complete with amazing, fresh hummus and a creamy, smokey baba to swipe up with grilled bread - you won't want to miss any of it.
see link to NYT article below
Here's our current list of classics and nostalgic favorites - let us know yours too!
It's the anchor.  Smooth, rich, and still warm from the food processor it's the must have item.  Even better if you can have a dollop of extra tahini in the center of shallow pool of olive oil.
Simple and flavorful, this tomato "salad" has to a part of the spread. 
Red Cabbage (aka Gas Station Salad)
Once upon a time, the grill restaurants were located in or next to gas stations and this thinly sliced cabbage salad is part of the OG collection.  There is a nostalgia around eating acidic salad and warm bread with the smell of petrol in the air.  The salad is simply tossed with salt, oil, and citric acid and left to marinade for as little as an hour or refrigerated overnight.  Citric acid is easy to find online and is a definite must - lemon or vinegar don't have the same water-free sharpness that makes this salad a classic.  
6 cups thinly sliced red cabbage
1 tsp citric acid (or ascorbic acid) powder
1 tsp fine sea salt
1 Tbsp neutral oil
Whether the the tahini or the mayo version (or both) baba needs to be on the table. The eggplant gets roasted with the skin on over an open flame, broiler, or high oven until the skin is charred and flesh is soft and smokey.  Peel away the skin and season it with tahini, garlic, lemon, and smoked salt for even more flavor.  We also like to switch it up sometimes for this quick version - diced, roasted, and tossed with tahini and drizzled with Shabazi oil.
Marinated Olives
it's hard to pick a favorite and yet we feel like none of the items on this list can be omitted.  Marinated olives are so easy and flavorful to make.  For an herby version, like this one, toss some herbs and olives together.  Or, for a more smokey version we like to use Rub Adom.  Include fresh lemon wedges on both versions for that finishing touch.
Herb Version
½ cup pitted olives
1 tsp Luberon Blend
1 Tbsp olive oil
lemon wedge
Smokey Version
½ cup pitted olives
1 tsp Rub Adom blend
1 Tbsp olive oil
lemon wedge
To be traditional, we recommend buying the Israeli pickles in the can.  To make your own, this dill version is also a great fit.
Shifka Peppers
These little cuties are spicier than they look and addictively delicious.  For a more mild heat feel free to use pickled peperoncini peppers instead.
Ideally you have both but you need at least one.  Zhoug is herby, spicy, and tangy from vinegar.  It's the inspiration behind our Shabazi blend.  Harissa has a few great options you can buy in a jar.  We also like to make this roasted red pepper version - fresh pepper flavor with the depth and warm of dried chilis in Izak and Aleppo.
Israeli Salad
It's the diced mix of fresh ingredients, simply seasoned.
1 ½ cups diced Persian cucumber
¼ cup finely diced red onion
1 cup roughly chopped parsley
1 ½ cups diced plum tomato
¼ cup fresh lemon juice
1 ½ tsp fine sea salt
½ tsp ground black pepper
¼ cup olive oil
Shredded Carrot Salad
Another fresh classic, simply dressed.  
1 ½ cups grated carrots
½ tsp ground cumin
½ cup roughly chopped cilantro
½ tsp fine sea salt
2 Tbsp fresh lemon juice
2 Tbsp olive oil
And of course, don't forget the fresh bread!
We are really stuck in a Frena phase these days.
Enjoy the Salatim and feel free to add some others and develop some new ones!
For the The New York Times review of Laser Wolf read more here.
Laser Wolf in both Brooklyn and Philly can be booked for reservations through Resy.
Questions?  Contact helen@laboiteny.com.