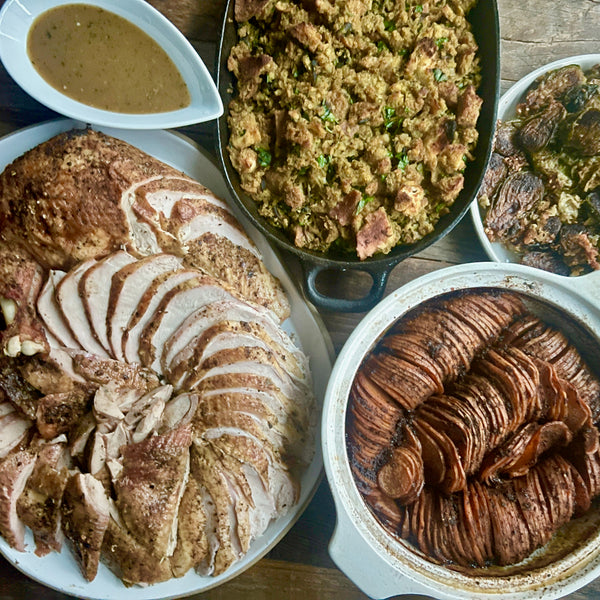 Thanksgiving 2022
Thanksgiving planning this year seems full of more options than ever.  It might be the first time in years we are getting together the good old-fashioned way with all the family classics.  It also feels like we've had a few years of hybrid and unconventional Thanksgivings so we might be keeping some of those new items and opening up to evolving what classic means.  What we do know is important is that there is good and plenty of it.  This year we plan on making some new versions of old classics we love, let us know what you think!
Each dish is made with a spice from the Fall 2022 blend set so get ready for a Happy Thanksgiving and more great dishes for fall, holiday or not.
A little extra work in the beginning but the quicker cooking, more evenly cooked, crispy all over result is worth it.  Our Isphahan blend with limon omani, garlic, and herbs really makes a great savory balance with just enough tart balance for a great roast – not to mention the gravy!
One baguette makes the perfect amount of stuffing, and the ragged edges really make it crispy on top.  A flavorful broth starting with roasted mushrooms and our Vadouvan blend with rich turmeric, onions, and fenugreek along with rosemary makes this stuffing a new classic we intend to keep.
Paper thin slices of sweet potato get bathed in brown butter, honey, and our B Mary blend featuring Pimentón and a little chili. 
Our nutty Iris blend is perfect for this Brussels sprouts dish.  The crispy crust of Manchego cheese around the edges is one of the best parts of this dish.  It's so satisfying to make and the less you touch it the better it comes out
As a holiday pumpkin pie purist, I have two pumpkin desserts each year.  I need the classic but I want something new.  This puff pastry tart has spiced pumpkin puree topped with fresh slices of butternut squash.
We have even more dishes to consider:
Roasted Turkey and Braised Kefte
Challah and Vegetable Dressing
Cataluña Roasted Sweet Potatoes
Questions?  Contact helen@laboiteny.com