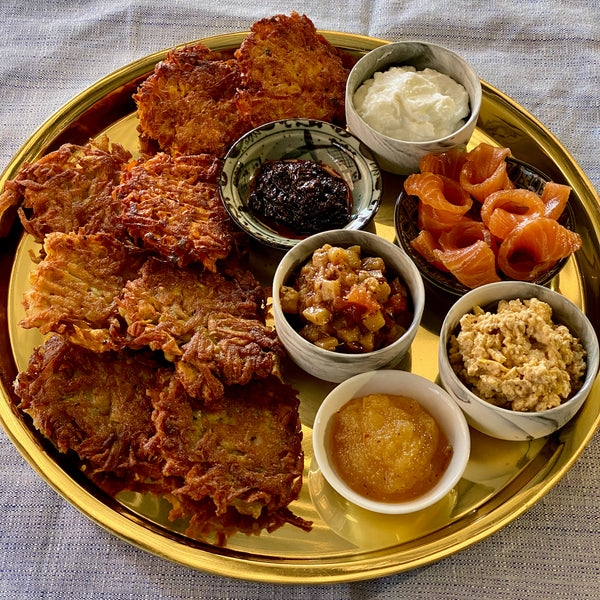 Latke Party for Hanukkah
Whether you're celebrating with friends or family this year, a latke party is a great way to bring everyone together to commemorate Hanukkah. Latkes can be made with a variety of different inclusions and because they pair well with a multitude of toppings, they can easily turn into a substantial meal. Set up a latke bar with all the toppings so that your guests can play around with flavor combinations. Here's how to do it:
The Latkes
You can make classic latkes with russet potatoes, but there's also room for experimentation. Make the latke batter with half russet potatoes and half sweet potato or add some shaved zucchini to introduce new flavors to the classic. Make a few different options or just the classics, whichever you choose will no doubt be crowd pleasers.
This master recipe includes variations if you want to have zucchini or sweet potato pancakes. It uses the technique of setting the starch in the grated potatoes in the microwave before making the batter. This makes it so that the potatoes don't oxidize and the batter doesn't get watery whilst sitting out.
If you're planning on making a few batches of latkes for a crowd, you have two options for making multiple batches. Firstly, you can make each batch separately. While you're frying up the first round, work on making the batter for the second. 
Secondly, you can microwave two cups of potato shreds at a time and then make one large batch of batter with all of the potatoes. We suggest steering away from microwaving more than two cups of potatoes at a time because they won't cook evenly, causing some of the starches not to set in the potatoes. 
Layer the latkes on a paper towel-lined sheet tray to serve. You can serve them as they come out of the pan or you can keep them warm in the oven on a low temperature while you fry up the batches.
Toppings
There's something about a latke that makes them taste delicious with almost any topping. Sour cream and apple sauce are, of course, essential.

This applesauce recipe uses our quick pan jam method, making for a deliciously sweet apple-forward version of the store-bought classic. The recipe is included in our Master Latke Recipe and can be made ahead. Fair warning, you'll never want to eat store bought applesauce again. 
Sour Cream, Greek Yogurt, or Labne
Full-fat sour cream is the classic, but full-fat yogurt or labne are just as delicious if you want to change it up.
Adding smoked salmon to your latke bar bulks it up and makes the latkes feel like a well-rounded meal. We love this recipe for Juniper & Orange Cured Salmon from the Mastering Spice cookbook. The piney juniper used in the spice blend is reminiscent of the holidays.
If you don't feel like making cured salmon, feel free to use store bought. You can also check out the other recipes we have for cured salmon below.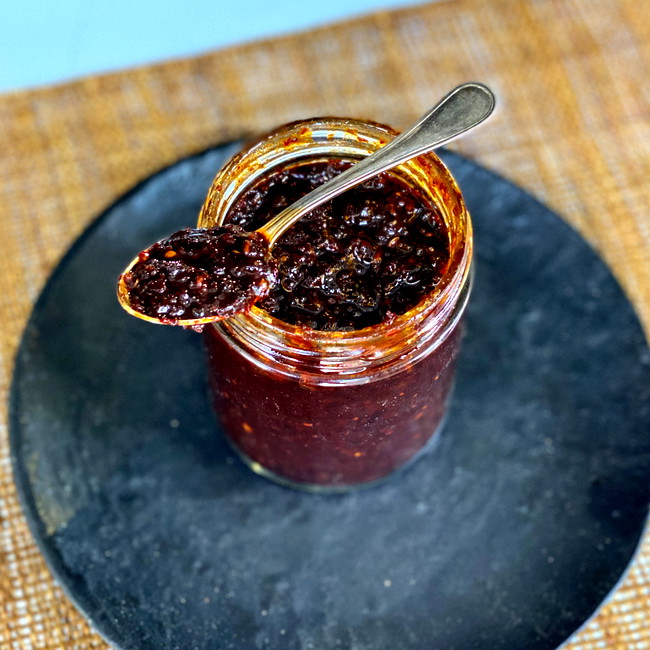 An addicting condiment made with Izak. Delicious when drizzled over latkes topped with sour cream or labne.
Another topping that bulks up the latkes a little. This recipe is from Mastering Spice and is slightly more refined compared to the classic. 
A sweet and spice condiment made with Marrakesh N.6.
Assorted Spices
For an added punch of flavor. We suggest:
Other topping ideas
Matchstick apples
Tahini sauce
Dijon mustard
More Resources
This recipe is inspired by Indian chickpea fritters and uses the technique of pulsing the batter in a food processor. The chickpea flour allows the latkes to be light, fluffy, and not too greasy.