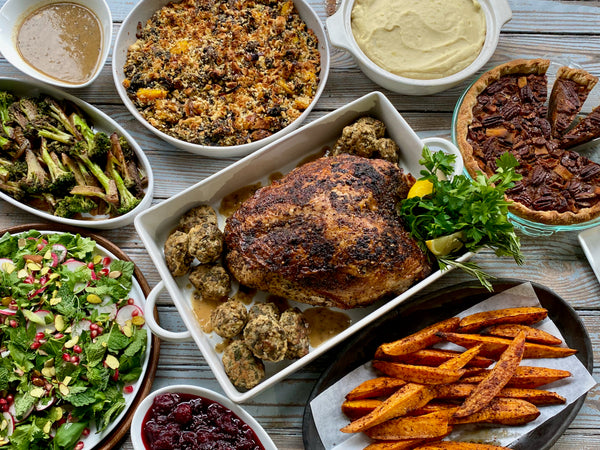 La Boite Spiced Thanksgiving
La Boite Thanksgiving
This year, we asked ourselves if it was possible to create a Thanksgiving meal that was equal parts classic and equal parts uniquely La Boite. The result is a robust, spice-centric spread that marries classic American dishes with Persian flavors and Middle Eastern Ingredients.
Each dish plays off one another, but they are strong enough to standalone. Look forward to a beautiful symphony of complementing flavors on your plate this year and also dishes so good that they become a regular part of your dinner routine. 
The Spiced Thanksgiving Set includes all of the spices used in every recipe for a convenient way to shop our Thanksgiving meal recipes.  
A bone in turkey breast requires less space in the fridge and less cooking time. Serve along side heavily herbed turkey kefta and flavorful gravy. Isphahan and Hawayej introduce Middle Eastern flavors to the dishes, but keep them classic enough to appease any traditionalists. 
Creamy chunks of kabocha squash are dotted throughout this veg forward dressing recipe. Luberon are used to introduce a subtle herbaceous flavor. 

Making these potatoes will have you questioning why you didn't think of it sooner! Adding tahina sauce to mashed potatoes makes them slightly nutty and not overpoweringly rich.
This salad provides a welcomed freshness to the Thanksgiving plate. Inspired by the classic Sabzi Khordan platter of herbs. 
To dress the Shabzi salad. 
Broccoli so good it'll become your new favorite vegetable recipe. 
A little smoky and a little sweet! These sweet potato wedges get nice and caramelized in the oven and are very simple to make. 
Cranberry sauce is, of course, essential to the Thanksgiving meal. It adds a nice sweetness and acidity that helps cut through the richness on the plate. Made using the quick pan jam preparation and seasoned with Urfa. 
When wondering if you should make a pumpkin or pecan pie, this recipe offers an elevated lovechild of those two favorites.

Biscoff cookies and Turkish coffee replace espresso and lady fingers in this Middle Eastern take on traditional tiramisu.