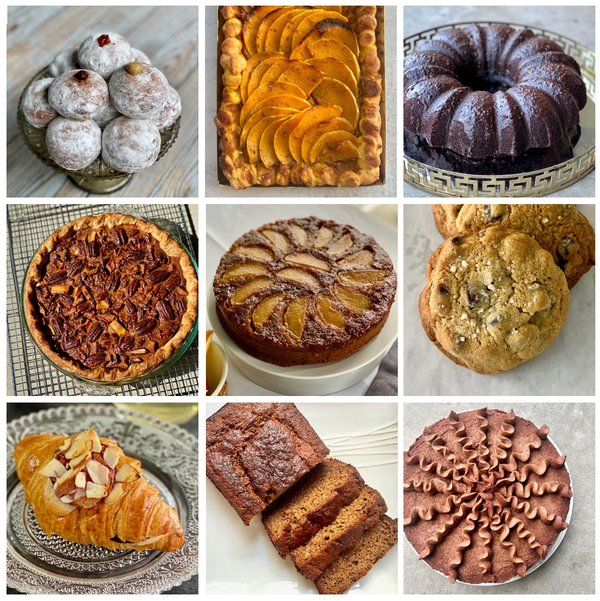 Top 10 Blends for Fall Baking
Fall baking is full of warmth, coziness, beautiful aromas, and great memories.  Here are some great blends to level up your favorite classics as well as some new ones to bring into the mix.  They all hover around the similar warm spice vibe with little aromatic twists and turns along the way.

In Yemen, the blend is traditionally used to stir into a hot coffee.  The light and gingery blend also pairs well with chocolate (check out our Yemen Spiced Chocolate Chips and Yemen Oatmeal Raisin Cookies) as well as milder baking like zucchini bread.
In Arabic, Baharat means "spices".  It is the Eastern Mediterranean version of garam masala, ubiquitous in both sweet and savory dishes.  It's definitely a great go-to warm and cozy blend with seems to work great in everything – like Pumpkin Pecan Pie.  It's a very well-rounded blend so if you could only take one to a deserted island, this would be the one.
Sri Lankan soft stick cinnamon is mild and floral.  It has a softer, more tender bark ideal for baking in many of the world's most popular examples as well as savory dishes like mole and Southeast Asian curries.  We use it for sweet dishes like Turkish Coffee Tiramisu and Red Wine Poached Pears for that classic holiday cinnamon touch.
Smoking the sticks of fragrant cassia cinnamon adds addictive depth and dimension to our Smoked Cinnamon.  Try swapping it into your favorite chocolate chip cookies, French toast, and even your traditional Chex Mix.  Can't get enough?  It's also featured in Spiced Raisin Marmalata and our Smoked Cinnamon Maple Syrup to drizzle straight from the bottle. 
Reims is the home of pain d'epices, a French version of quickbread that is a cross between gingerbread and fruit cake.  This blend is light and sweet from ginger and honey with star anise to add a little punch and a sweet cinnamon finish.  If you've never made Palmiers, your time as arrived!  Or treat yourself to smooth and creamy Chocolate Truffles that easily come together with only 5 ingredients – you and your guests will be impressed.
We made this blend for our friend Chef Amanda Freitag. It's perfectly suited to season baked goods, desserts, and beverages.  So, give it a try in her Chocolate Chip Cookies, sprinkle it into your morning coffee, or dust it over you peanut butter and banana toast for the best PB&B.
Great for spiced tea, hot chocolate, and oatmeal, the Chai blend is part of our Spice Dabba, a collaboration between Kanchan Koya (aka Chief Spice Mama) and La Boîte to bring essential spices for everyday Indian cooking at home.  The dabba includes a collection of 8 iconic blends, new favorites (Everything Indian) and must have single origin spices.  Kanchan's healthy Chai Spiced Banana Bread is a must try.
This is another one of those great blends that adds flavor and dimension as an ingredient as well as a finishing touch to cakes, stirred into coffee, and sprinkled onto ice cream.  We love it for a rich and chocolatey French Chocolate Cake or to add an extra chocolate layer to Double Chocolate Chip Cookies.
From a fluffly Chiffon Cake to a hearty Desert Rose Quickbread the sweet sesame, cardamom, and rose make you want to stop and pay full attention to the nuances of this nutty and floral blend.  These Fig and Frangipane Twice Baked Croissants are also an amazing example of how great this blend is for baking.

Bombay pairs so well with sweet root vegetables like carrot, kabocha squash, and sweet potato, it should be no surprise how delicious it is in the Carrot Snacking Cake.  We never want to leave it out of carrot cake again – so worth it.
Questions?  Contact  helen@laboiteny.com.